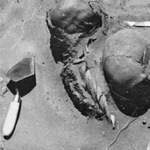 Based on Littleton, J., K. Walshe and J. Hodges 2013 Burials and time at Gillman Mound, northern Adelaide, South Australia. Australian Archaeology 77:38–51.
Ritual burial is one of the oldest forms of symbolic behaviour practiced by human communities. Here in Australia, we have both the oldest ritual burial of a 'anatomically modern human' (that is, of Homo sapien sapiens, see image below), as well as the oldest known cremation thus far uncovered (both dated to around 40,000 years BP). Both of these burials are located in the Willandra Lakes World Heritage Area, and have played an important part in learning about Australia's deep past and the people who first colonised the continent.
Burial WLH 3 (Willandra Lakes, NSW) The World's Oldest Modern Human Burial: A fully extended burial of a man found covered with red ochre and dated to ca 40,000 years BP (image courtesy of Jim Bowler and the Traditional Owners of the Willandra Lakes Region). 
Burials provide a huge range of information on past individuals and the communities to which they belonged in life. They do this not only through the remains of the individual/s themselves, but also the ways in which they were buried by their community (e.g. laid out on their back or front, left or right sides; the direction their face is turned to; if they were covered in ochre or wrapped in tight clothing or other materials; buried alongside other persons), along with the material culture items included in the grave with them (known as 'grave goods' and which may be any type of item such as: clothing, ornamentation, tools, food, etc.). All of these elements provide insights into the 'place' of that individual within their community (community leader?), perhaps what occupation they held in life (e.g. tool manufacturer, hunter, shaman), the status of children in the wider community, the overall health of the community (malnutrition or diseases encountered by the group in life), and their views on death. Furthermore, changes in burial practices and the health of individuals at death can indicate changes in social views and practices, health and wellbeing in the community, and/or changes in populations (e.g. if new groups have migrated into the region).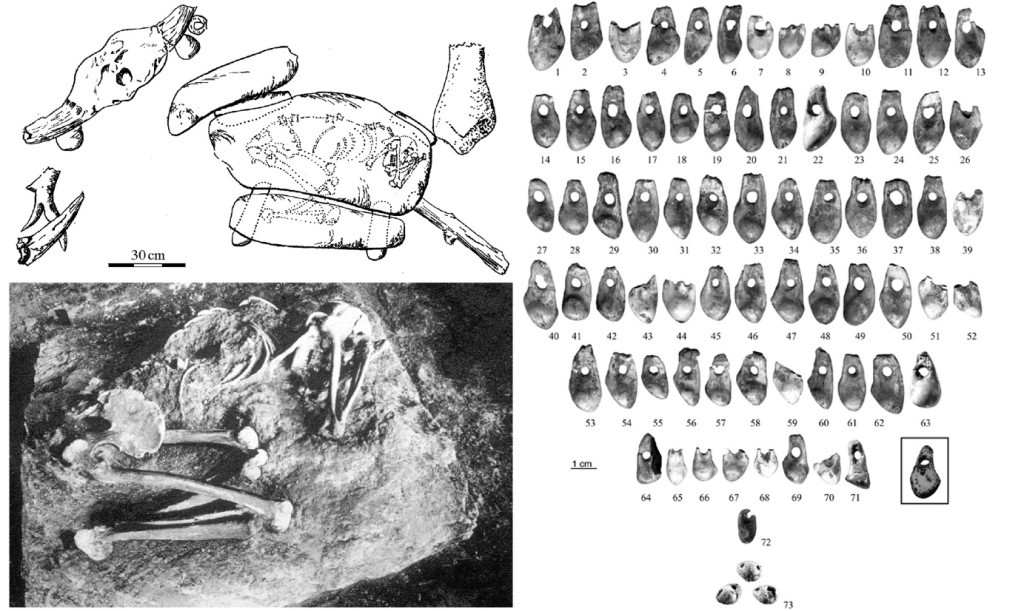 Social Status in Death: An Upper Palaeolithic burial (dated to ca 15,500 years BP) excavated at Saint-Germain-la-Rivière (France) discovered with a great number of perforated red deer canines (beads or pendants). As Red deer were not found in this region at this time, the teeth had to have been brought from far away (traded), indicating that these beads were an 'exotic' and likely 'expensive' item to collect. As such, to be buried with so many special items indicates to the archaeologist that this woman was an important individual in her community during life (after Vanhaeren and d'Errico 2005). 
Information such as this was recently recovered by Judith Littleton and colleagues who restudied burials which were originally discovered in 1970 after machinery preparing the site for development uncovered human remains at the Gillman Mound site (northern Adelaide, South Australia) (AA 77).  Having been accidentally disturbed, the remains of some 22 individuals (including men, women and children) were then carefully excavated, collected, and then curated by the South Australian Museum. Having been attentively looked after since this time, archaeologists have been able to go back 40 years later and examine these individuals for details about their life in southern Australia between 1100 and 600 years BP.
To begin, Littleton and colleagues note that the site appears to have been exclusively used as a burial location during the period in which people were interred there (between 1100 and 600 years ago) as no evidence of people having lived at the site was identified. Through consideration of the number of children (compared to adults) buried at this site, the researchers were able to determine that child mortality rates in this region were consistent with the high proportion of deaths that occur within the first year of life in most populations. They were also able to determine that approximately one burial took place at Gillman Mound per generation. Since a group of around 10 people with a generation length between 20–30 years, would result in around 33–50 bodies within a 100 year period, the authors pose the question of why only some individuals in the community were buried at Gillman Mound and where is everyone else?

The Gillman Burials: Two of the burials carefully excavated by archaeologists after they were accidentally disturbed by machinery working the site for development. On the right is one of the burials in which children were buried together, perhaps to keep each other company in death. 
The team also identified a common burial tradition at this site. Here, people tended to be placed in a flexed (their knees either partially or fully pulled up to their chest) position, facing into the earth (known as the 'prone' position). A number of people also appear to have been buried tightly wrapped in either clothing or other materials, as their skeleton remained closely restrained after internment. Children were not buried alone as the adults were, but alongside another child. In one case, there is evidence that the burial of a very young infant was delayed for some time (days to months) until another child (this time a child between the age of 2–2.5 years old) could accompany them. Perhaps their community did not wish the children to be alone in death?
As the choices in burial traditions was almost infinite for the people of the northern Adelaide region around 1000 years ago, these commonalities between the Gillman Mound burials suggests that a particular, though currently unknown, temporal, spatial or social connection existed between those who were buried at this site. But what was this connection? Unfortunately, not enough information is yet available on burials of a similar time period in the Adelaide region, and as such these questions will have to remain unanswered—for the time being.
For more on early burials, see:
Bowler, J.M., R. Jones, H. Allen and A.G. Thorne 1970 Pleistocene human remains from Australia: A living site and human cremation from Lake Mungo, western New South Wales. World Archaeology 2:39–60.
Parker Pearson, M. 1999 The Archaeology of Death and Burial. College Station: Texas A&M University Press.
Tarlow, S. and L. Nilsson Stutz 2013 The Oxford Handbook of the Archaeology of Death and Burial. Oxford: Oxford University Press.
Vanhaeren, M. and F. d'Errico 2005 Grave goods from the Saint-Germain-la-Rivière burial: Evidence for social inequality in the Upper Palaeolithic. Journal of Anthropological Archaeology 24:117–134.
For more on Indigenous Australian burials:
Aboriginal bark burial: 700 years of mortuary tradition in the Central Queensland Highlands
Useful websites on the study of human remains:
The Internet Journal of Biological Anthropology
Southeast Asia and Pacific Bioarchaeology
Powered by Osteons – Dr Kristina Killgrove's blog