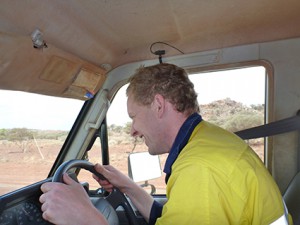 Emmett Connolly grew up in County Monaghan, Eire. His love of the outdoors led him to pursue a career in archaeology. He studied at the Dublin Institute of Technology and had completed his Masters degree at the National University of Ireland in Galway. Following graduation he had worked extensively throughout Ireland. From 2009 to 2011, he worked on a project at the County Monaghan Museum focussed on promoting local archaeology. In 2012 he moved to Perth and worked as a heritage consultant with Australian Cultural Heritage Management Pty Ltd. Before he returned to Ireland, he survived a serious snakebite while travelling between Perth and Adelaide. He had been home in Ireland for 10 days when he was murdered by an acquaintance on 29th September. Our thoughts are with his family. 
His colleague and friend Sue Carter writes:
"We were all truly shocked to hear of the awful and untimely death of our fellow archaeologist, Emmett
I can best describe Emmett as a gentle soul, yet one who knew what he wanted and was not afraid to speak his mind. His unique way of looking at life and his larrikin ways will always bring a smile to my face. He could wind you up, tease you, call your bluff, but always use that smooth Irish charm when he knew he had to.
Work in the field was always interesting, with times of retiring in the evening with tears in my eyes – tears from the humour and laughing that accompanied Emmett wherever he went. One trip I was laughing so much I actually choked – thanks mate!! In the office he was always smiling and winding us up about one thing or another, but never with malice. Dedicated to his work and always showing professionalism and loyalty, Emmett was unique. I swear he must have kissed that Blarney stone more than once!
His loss is still one we are trying to come to terms with, and it will take a while. He was so young, full of energy and had a bright future ahead of him. His family should be so proud of the young man he had grown into. When he spoke about 'back home' his face would light up and make everyone smile. My favourite quote is
Don't cry because it's over
Smile because it happened
And when thinking of Emmett all you can do is smile – his light shines on"