New book documents Indigenous heritage

Aboriginal Elders, archaeologists and miners celebrated the launch of Kakutungutanta to Warrie Outcamp: 40,000 years in Nyiyaparli country in Port Hedland on 23 April 2015.
The Kakutungutanta to Warrie Outcamp: 40,000 years in Nyiyaparli country book tells the story of Nyiyaparli people in eastern Chichester Range and around the Fortescue Marsh. It brings together Nyiyaparli traditional knowledge with information from archaeology and history to explain how Nyiyaparli people have lived and looked after their country for thousands of years. Stories about some of the special places in Nyiyaparli country explain why these are important to them. The book explains some of the different ways of finding out about heritage places and what they can tell us about the past.
Kakutungutanta to Warrie Outcamp: 40,000 years in Nyiyaparli country draws on ten years of archaeological and anthropological work carried out by Archae-aus with Nyiyaparli people for Fortescue Metals Group. About 3000 heritage sites and 2 million artefacts were recorded on Fortescue Metals Group's Cloudbreak and Christmas Creek mine sites in the eastern Chichester Range. Test excavations at sixteen rock shelters show that the Nyiyaparli story can be traced back in this area more than 40,000 years.
Nyiyaparli Elder, David Stock, worked with the book's authors to tell some of the stories. He believes it is 'very good' that his great grandchildren will be able to read this book to find out more about their history. 'It shows Australians that our heritage is very important'.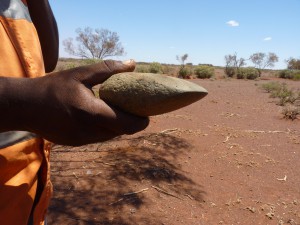 Fiona Hook, managing director and executive archaeologist, said that it was 'an amazing opportunity for Archae-aus to work with the Nyiyaparli to tell the wider community about their connection to the Cloudbreak-Christmas Creek area. For us this has been a great opportunity to show the public what we are recording when we work with the Nyiyaparli and explain how the sites like Kakutungutanta relate to the deep past more than 40,000 years ago.'
Fortescue Metals Group funded the project and continues to work with Nyiyaparli people to protect sites in their country. The Federal Government's 'Your Community Heritage' Program also provided a grant.
Printed copies of the book will be distributed to all schools and libraries in the Pilbara. An electronic version can be downloaded from http://www.archae-aus.com.au/education-teachers-resources/
Media Contacts
Fiona Hook or Caroline Bird, Archae-aus 08 9433 1127