How do the Nepalese and UNESCO deal with the destruction of cultural heritage sites in the aftermath of the Nepal earthquake
 Megan Berry
In the days since the 7.8 magnitude earthquake that devastated Nepal, the destruction and magnitude of loss to the Nepalese people is evident. Today the media reported that over 8,000 human lives have been lost, with innumerable homes and infrastructure of the country reduced to rubble; including the heavily effected Kathmandu Valley UNESCO World Heritage Site.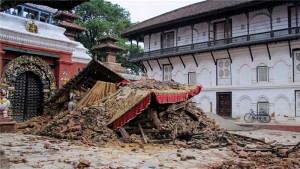 The Australian Archaeological Association, as the national association of Australian archaeologists, represents a wide range of experts specializing in the protection and preservation of heritage, both within Australia and Internationally. News of the devastation in Nepal – the loss of human life, and impacts on tangible heritage sites across the country – is at the forefront of concern within the association.
Director-General of UNESCO Irina Bokova made a statement on 27th April (2015) regarding the state of cultural heritage in Nepal noting that much of the Kathmandu Valley World heritage site has been destroyed, although minimal impact has been reported for the World Heritage Site of Lumbini. UNESCO also reported that ground teams have been mobilised to assess impacts to Nepalese monuments and sites, both within the larger centres and community sites in the countryside. On May 1st Annette Ekin, for Al Jazeera, reported that while there have been serious concerns about the security of cultural heritage material objects since the quake, community lead initiatives have begun to survey damage to the immense number heritage sites around the region, using a smartphone app. This process will enable conservators and heritage professionals during the reconstruction process, and consequently the protection of the countries cultural heritage.
In the aftermath of the earthquake the Australian Archaeological Association would like to encourage the Australian public to continue to donate to relief efforts in Nepal over the months and weeks to come. Not only are the protection of human life, the re-establishment of infrastructure, and basic services one of the main concerns of the association and its members; the association also understands the importance of cultural heritage sites, of intrinsic value to the community, and economically for the nation. Once the re-establishment of basic services is met then increased efforts can be directed towards the rehabilitation of Nepalese Heritage Sites.
While images of the devastation to tangible Nepalese heritage sites (both world heritage listed sites and non- listed sites) are horrendous, a significant proportion of Nepal's heritage is intangible, and resides in the stories, the songs, and the people of the nation.  It is the aim of the Australian Archaeological Association that the people of the Nepal receive the help they need to maintain a community of culturally vibrant heritage.
For more information on the devastation to the cultural heritage of Nepal and efforts by heritage professionals please also see:
UNESCO: https://whc.unesco.org/en/news/1268
Al Jazeera: https://www.aljazeera.com/indepth/features/2015/05/nepal-cultural-heritage-earthquake-150501041832085.html
Image: Temples at the World Heritage listed Patan, and Bhaktapur in rubble. From al Jazeera.com:
https://www.aljazeera.com/indepth/features/2015/05/nepal-cultural-heritage-earthquake-150501041832085.html