Archaeologists demonstrate 46 000 years of occupation in Australia's arid northwest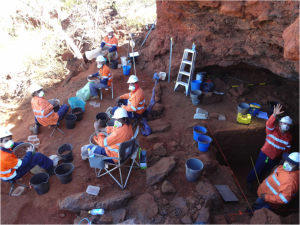 Archaeological research in the inland Pilbara has uncovered multiple evidence for Aboriginal occupation in the region over 46 000 years ago. This excavation program has firmly established widespread occupation across the Pilbara before 40,000 years ago. In 2013 and 2014 a team of archaeologists from Scarp Archaeology in collaboration with the Nyiyaparli People and BHP Billiton completed a massive field project excavating over 30 caves throughout Nyiyaparli Country around Newman and the Hamersley Plateau.   "This archaeological work has shown that people at that time were able to successfully adapt to the changing climate of the last ice age, and had a sophisticated tool kit designed for use in the arid zone" says lead archaeologist Dr Michael Slack (Scarp Archaeology). "We now have a strong regional record showing the way in which Aboriginal people were able to successfully settle in the most arid areas of Australia from a very early period of history.  The work would not have been possible without the support of both the traditional owners and BHP Billiton, and show the importance of the ongoing collaborations these groups".
The work has been recently presented at the University of Western Australia and is soon to be published.
Media contacts:
Dr Michael Slack, Scarp Archaeology.
Professor Peter Veth, University of Western Australia.