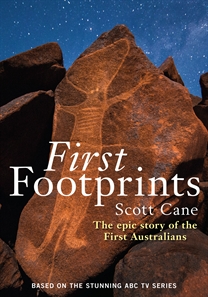 A ground-breaking documentary on Australian archaeology won two national awards on Thursday evening: the 2013 Walkley Award for excellence in documentaries at a high profile ceremony in Brisbane, and also an Australian Teachers of Media (ATOM) Award for media excellence in education and industry.
Martin Butler and Bentley Dean captured the imagination of the Australian public with their spellbinding and evocative combination of landscapes, archaeology and Indigenous cultural knowledge.
What's not surprising is that they won, but that it's taken so long for the story of Australia's First Peoples to be told.
Peter Veth, Winthrop Professor in Archaeology at the University of Western Australia, and series consultant, said, "What made this documentary so unique was the prominent position given to Indigenous voices and heritage. Archaeologists have worked very closely and ethically with numerous Aboriginal and Torres Strait Islander communities and this is profiled for the first time. I am privileged to have been part of this project." In the film, Professor Veth took the film-makers to some of the spectacular locations featured, such as the Canning Stock Route, linked parties together and provided professional advice for scientific aspects of the film.
President of the Australian Archaeological Association, Dr Pat Faulkner of the University of Queensland, said, "We offer our heartiest congratulations to Martin and Bentley on their awards. This documentary is already a classic, and should be compulsory viewing for every school child in Australia."
Filmmaker Martin Butler said "We are delighted with the awards. They vindicate our faith in showcasing a major global story – the cultural heritage of the First Australians".
Several prominent Australian archaeologists were involved in the documentary, but the real stars of the show were the many Traditional Owners who generously shared their Country and stories with the Australian public. Among the amazing archaeological sites the documentary showed, were the World Heritage-listed Willandra Lakes, Nawarla Gabarnmang, Lake Condah, Koonalda Cave and the Burrup Peninsula (Murujuga).
The President of the Australian Association of Consulting Archaeologists Inc., Fiona Hook, says, "This series will help people understand why Indigenous Australians request stringent protection when their heritage is under threat".
The DVD of the series is available through ABC stores. The book of the series, 'First Footprints: The Epic Story of the First Australians', authored by Dr Scott Cane, was recently released and is available in good bookstores everywhere.
For further information contact Winthrop Professor Peter Veth on +61 8 6488 1807, +61 408 094 607 or <peter.veth@uwa.edu.au>.