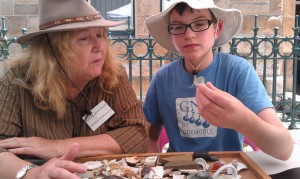 It is with great sadness that the Australian Archaeological Association (AAA) notes the passing of Dr Gaye Nayton on 5 December 2013.
Gaye was an integral part of the national archaeological community, a tireless promoter of heritage issues in Western Australia (WA) and someone who regularly championed endangered archaeological sites and heritage places. She made a significant contribution to archaeology in WA.
Originally from the UK, Gaye arrived in WA in 1982. She completed her undergraduate and PhD degrees at the University of WA, running her own archaeological consultancy business for nearly two decades, completing over 200 heritage-based projects and working on many key sites in the State.
She was also integrally involved in academic investigation of archaeology, conducting research in her free time and presenting regularly at national and international conferences.
Gaye was an expert on the European colonisation of the northwest, and the author of book "The Archaeology of Market Capitalism: A Western Australian Perspective", which concentrated on the history of the Swan River colony and the towns of Cossack, Old Onslow and Broome. To date this is the only published work that concentrates solely on the historical archaeology of the State.
Gaye's greatest contribution was her tireless devotion to the promotion of archaeology to the general public, and her role as an advocate for heritage. She was the state organiser for National Archaeology Week (NAW), the state representative for the Australasian Society for Historical Archaeology (ASHA) and was intrinsically involved in grass roots education initiatives.
Gaye developed a range of archaeological educational materials including lesson plans for primary school teachers, hands on archaeology fun kits, and videos explaining the archaeological process. She developed these simply because of her passion for archaeology, and disseminated them for free.
NAW representative Luke Kirkwood said, "Having worked with Gaye since the beginning of NAW, I can attest to her personal passion and commitment with respect to public archaeology initiatives including NAW and her Archaeological Fun Boxes education tool. This is a huge loss to our organisation of dedicated volunteers and our discipline."
At the time of her death she was involved in developing Archaeological Fun Boxes, kits comprising a range of archaeological materials, which could be used by teachers to explain archaeological procedures for students.
The archaeological community has lost a stalwart member with the untimely passing of Gaye Nayton. Her contribution to archaeology and to the heritage of WA has been significant. In particular she helped thousands of school children gain an appreciation for archaeology. She will be missed.
To help remember Gaye, some of you may wish to make a donation to her Archaeological Fun Kits Pozible project to help reach its target and see this project, about which she was so passionate, come to fruition in her memory – all the details can be found online at http://www.pozible.com/project/173600.