Su Solomon (1940-2008)
01st June 2009
Midwife, Anthropologist, Taphonomist, Mother and Friend
Judith Field, Denise Donlon, Dominic Hanlon, Edmund Hanlon, Rachel Hanlon, Cassie Thornley and Sarah Martin
Su Solomon passed away in April 2008, after a short illness. The shock of her passing has not faded; her contribution to so many people's lives and the intellectual contribution to the discipline of archaeology in Australia will be felt for a long time. Her legacy was celebrated in a session in her honour at the 2008 Australian Archaeological Association Annual Conference at Noosa. Su was born just after the start of World War II. Her father, a member of the 'dambusters' team, was killed during this famous campaign in 1943, so Su's only images of him were gleaned from an archived film of the pre-raid briefing session. Her mother Olga, and later her step-father Roy and step-uncle Laurie, created a loving and caring household that included many of Su's aunts and cousins.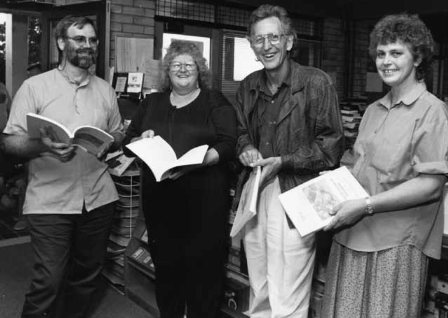 Image caption: Su at the launch of
'Problem Solving in Taphonomy'
, ca 1993. From left to right: Iain Davidson, Su Solomon, Peter White and Diane Mitchell (photograph courtesy Iain Davidson, published in Australian Archaeology 68:82).
Su completed her Registered Nurse Certificate at Sydney Hospital in 1959, and after working in England and inland Australia she returned to Sydney to do midwifery at the Mater Hospital, graduating in 1964. For the next 12 years Su worked in hospitals around Sydney, married and had three children.
In the mid-1970s the family moved to the Hawkesbury River north of Sydney where, among other activities, Su worked as a Domicillary Midwife along various reaches of the river. The house was accessible only by water; the children travelled by small boat to school and Su became an active member of the river community.
The Hawkesbury River area is rich in Aboriginal cultural materials, including rock art (both paintings and engravings), middens and stone tools. Their presence in her environment sparked Su's interest in archaeology and in 1982 she enrolled in archaeology at the University of New England (UNE). After graduating in 1986 Su taught courses in archaeology while pursuing her research interest in faunal remains and taphonomy, combining a relentless drive to find ways of understanding the past with a very clear sense that life was for living and, above all, that it be enjoyed. Sometimes, bizarrely, these coincided, as she took delight in recovering tiger scats from Dubbo Zoo to examine the effects of animal gnawing and digestion on bone.
In 1987 Su began postgraduate studies at UNE, studying the taphonomy of kangaroo bones left by professional shooters on claypans near Tibooburra. She interviewed the shooters (in Tibooburra pubs) about their activities and applied the insights gained from the information they provided to studies of open sites on the Peery Lake lunette. Su met many Paakantyi people during this time, and she undertook a number of interviews with Paakantyi women about their methods of food preparation, cooking, eating and discard. In addition, and to Su's delight, Badger Bates cooked kangaroo tail in the ashes and showed the archaeologists how to split the vertebrae to extract the marrow. All of this helped Su with her archaeological research; the Peery Lake sites were a challenge because at that time very little archaeological work had considered the taphonomy of open sites in deserts, and there is no doubt that Su's work in this area was years ahead of her time.
In 1989 Su accompanied a Harvard Field School to Koobi Fora, on eastern Lake Turkana in northern Kenya. The area is desolate and a long way from Nairobi. One of the students was bitten by a poisonous snake and Su, with the aid of two colleagues, kept him alive during an horrendous 10 hour road trip, using standard resuscitation techniques. He finally recovered after treatment with antivenene, but would not have survived without Su's intervention.
Su was a great cook and enjoyed hosting informal dinners for colleagues and friends; her parties overflowed with laughter. She also cooked kangaroos in the backyard for analysis, dragging her children along to 'hunt' for road kills. The garage and laundry became a testament to her love of bones.
In the early 1990s, Su was appointed as a remote area nurse with the Kalgoorlie Aboriginal Medical Service. She travelled into the Great Sandy Desert to set up a primary care facility for southern Pitjantjara people at Tjuntjuntjarra. Su lived in a caravan opposite the small building that housed her clinic and bathroom. The people lived in shelters constructed from local materials and building waste. Su learned much of the local language – surprising herself one day when she realised she was speaking it. As a member of the community she took part in ceremonies, all the while recording everything she did in one of her many diaries.
Su worked virtually 24 hours a day, seven days a week whilst in the Western Desert; her only medical backup was the Royal Flying Doctor Service. When she needed to get away she would drive a few kilometres to a small ephemeral lake, ringed with mallee trees, where she could be alone. She loved the desert with its vibrant colours, brilliant starry nights, and deep silence.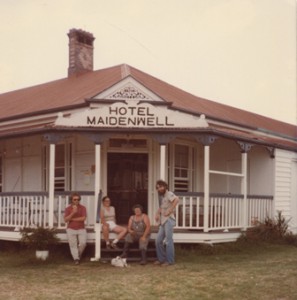 Image caption: Se on her first field trip with Mike Morwood to Maidenwell Shelter, ca 1983. From left to right: David Rhodes, Barbara Mason, Su Solomon and Mike Morwood (photograph courtesy of Denise Donlon, published in Australian Archaeology 68:83).
Su read widely and was interested in the personal stories, spiritual beliefs and rituals of those for whom she cared, whether in the city or desert. She enveloped herself in a range of loves: archaeology, Judaism, religion in general, and free thought and as a result she had many friends from a range of backgrounds. She continued to follow her interests even when she was working in the Western Desert. She researched the unobvious but essential, such as how women managed to share a small rabbit between five people by cooking it in the ashes, then smashing it into pulp and dividing the pulped meat, blood, bone, guts and brains into shares. Su's 'nurse anthropologist' insights into the health and diet of the desert people were unique.
The increasing fragility of her mother, and her own declining health brought Su back to Sydney where the last position she held was in a post-natal ward at the Royal Hospital for Women, reassuring and encouraging new mothers. She was depressed when ill health forced her to give up nursing altogether.
After her mother Olga passed away Su moved to Armidale. The internet opened up Su's world at this time and she joined online lists and discussion groups in prehistory and actively participated in the debates. As chronic poor health curtailed her outside activities she discovered and developed an interest in genealogy. She constructed a 'tree' with some 2000 branches and twigs and generously devoted time to helping the many family contacts and friends she found online. Her last publication was with another researcher in the British Family Tree magazine.
Her contribution to archaeology will never be fully appreciated as so much of her work is unpublished, but that which she did publish is well-cited and of course appears in the basic text on taphonomy that all students (and researchers) dive into from time to time, Lee Lyman's Vertebrate Taphonomy. Although she did not complete her postgraduate studies, she continued researching and teaching aspects of taphonomy, as well as mentoring students.
Su was a real force amongst the archaeologists who knew her. She demanded intellectual honesty and called a spade a 'bloody shovel'. She had a fierce loyalty for her friends and received loyalty from them in return. Su lived her life fully, rich, diverse and certainly not mundane. Su Solomon truly deserved the accolade of being 'larger than life!'. Su is survived by her Uncle Laurie, children Rachel, Edmund and Dominic and grandchildren Neil, Amy, Kimberly and Sarah.
Judith Field, Denise Donlon, Dominic Hanlon, Edmund Hanlon, Rachel Hanlon, Cassie Thornley and Sarah Martin
Su Solomon (1940-2008)
June 2009
68
8-83
Obituaries
You must be a member to download the attachment (
Login
/
Sign up
)