Review of 'Whalers and Free Men: Life on Tasmania's Colonial Whaling Stations' by Susan Lawrence
01st June 2008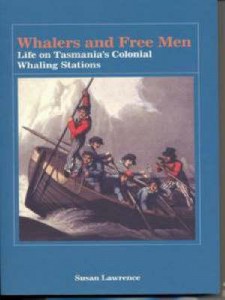 Whalers and Free Men: Life on Tasmania's Colonial Whaling Stations by Susan Lawrence, Australian Scholarly Publishing, North Melbourne, 2006, viii+211 pp., ISBN 1 74097 087 X.
Martin Gibbs
Department of Archaeology, School of Philosophical and Historical Inquiry, University of Sydney NSW 2006, Australia
One of the great tragedies of Australian historical archaeology has been our failure to translate the results of our research into stories which are accessible to the public. Remote industrial frontiers, urban slums, convicts, graveyards – most of us have undertaken or are aware of any number of projects which would make for riveting books that would get across our contributions to history and knowledge. However, the number of volumes produced over the last 10 years which have been aimed at the public could probably be numbered on two hands.
With Whalers and Free Men, Susan Lawrence has produced her second book which translates her academic research into a form which should satisfy both the public wanting a good story and archaeologists wanting information on a major archaeological project. The nineteenth century shore-based whaling industry has been a popular theme for historical and maritime archaeologists since the 1980s, with regional and site-specific studies undertaken throughout all southern Australian states and New Zealand. Lawrence's work focuses on the Tasmanian shore whalers of the 1820–1840s period, examining several sites associated with Hobart entrepreneur James Kelly.
Chapter 1 'Kelly's People' provides the historical context for the whaling industry, James Kelly's involvement and the operations of his AdventureBay and LagoonBay stations. One of the pleasing elements of this book is that Lawrence manages to humanise the history of the Tasmanian whaling industry by introducing a range of individuals associated with Kelly's operation, including the Aboriginal men and women who established working and domestic relationships with the whalers during what would prove to be a period of tragic change and loss.
Chapter 2 'Building a Station' details the industrial and domestic operations associated with shore stations and shifts into a description of the archaeological investigation of the two whaling sites. The chapter takes on a narrative form which includes not only a description of the results of the surveys and excavations, but an explanation of the investigative processes and insights into how Lawrence and others reached their interpretations. What might otherwise have been tedious technical detail becomes surprisingly readable and would give both general readers and students a better idea of how projects of this type proceed.
Chapter 3 'Whalers Rubbish' is a discussion of the artefacts recovered, divided into major functional categories. This section sticks to identification and broad historical context, with some comparison to other archaeological sites. For those requiring a more detailed dataset, there are extensive appendices.
Chapter 4 and 5, 'Life at the Stations' and 'After the Whalers Left' draw together the archaeological and historical stories. Not surprisingly, the subtheme of these chapters is the relationship between what the documentary record tells us of the life of the whalers, versus what is provided by the archaeological record. Life on the maritime industrial frontier was hard and often violent, but at the same time regulated by a well-established set of contracts and traditions. Whaling especially was linked into a wider international set of structures and hierarchies based in part upon an individual's performance with oar or harpoon, often over-riding the divisions of race and class seen in 'normal' settlements. Once again Lawrence includes the questions which drove the analysis, while being honest about the limits inherent in the structural and artefact evidence (and about where her questions simply couldn't be answered), but still manages to weave together a fair idea of what life may have been like. The final section on what is likely to have happened to the sites after the whaling era finished, as indicated by the artefacts of later timber-getters, bushwalkers, fishermen and tourists, brings the reader back to the present.
Whalers and Free Men is an easy read, with sufficient illustrations of site plans and artefacts that the lay reader should come away with a good sense of the contribution that the archaeological research has made. Production of this volume is mostly good, with the exception that some of the photographs have reproduced a little dark and are hard to make out. Presumably the absence of plates on glossy paper (which might have made these easier to see), is also one of the reasons why this book is a very reasonable price.
Martin Gibbs
Review of 'Whalers and Free Men: Life on Tasmania's Colonial Whaling Stations' by Susan Lawrence
June 2008
66
72
Book Reviews
You must be a member to download the attachment (
Login
/
Sign up
)