Review of 'The Stone Mirror: A Novel of the Neolithic' by Rob Swigart
01st June 2009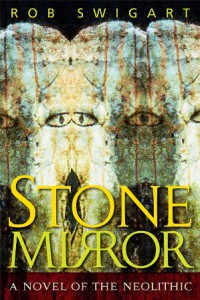 The Stone Mirror: A Novel of the Neolithic by Rob Swigart. Left Coast Press, Walnut Creek, CA, 2007, 287 pp., ISBN 978-1-59874-017-2.
Andrew S. Fairbairn
School of Social Science, The University of Queensland, St Lucia Qld 4072, Australia
Rob Swigart's The Stone Mirror: A Novel of the Neolithic is a fictional narrative focused on the archaeology of the fictitious site of Aynalı Tepe, a Neolithic occupation mound in Central Turkey. Based on the leviathan excavation project at Çatalhöyük, Swigart's narrative is presented in 18 well-written chapters alternating between a modern excavation (chapters headed 'Now') and life in the ancient settlement (chapters headed 'Then'). The contemporary excavation is led he charismatic Bryson Jones, archaeologist and well-connected, documentary-TV celebrity, with his team of archaeologists led by a real 'digger' in the form of Satchi Bennett. We follow the story of the excavation as it struggles against its own fame, ingrained bureaucracy in the form of government representative Özgür Tasköprülüzâe and the machinations of antiquities dealer Rolf Butcher. Aynalı Tepe's archaeology is peeled away from survey to its third season when the plastered head, known as Alice, provides a feeding frenzy for the world's press, archaeologists and mother goddess worshipers, eagerly encouraged by a savvy Jones. Needless to say, things do not go to plan, and an entertaining story unfolds including discovery, cynical greed and ethics. The title refers to the obsidian polished mirrors found at Çatalhöyük, surely one of the great oddities of the ancient world, which in this case end up forming Alice's eyes.
Meanwhile, in the Neolithic, the story is centred on the life of Shelsan, his partner Mala and their family including Little Boren, whose initiation on a trip to the obsidian source at Göllü dağ provides a pivotal moment in the family's life and that of the settlement. We find a world reconstructed for us from archaeological research in the Konya Basin (Çatalhöyük, Pınarbaşı) and western Cappadocia (Aşıklı Höyük and Göllü dağ/Nenezi dağ), and the author includes many key archaeological themes in his narrative, including trade, subsistence practice, religion, death, identity, gender roles and the chewy topic of the connection between environmental and cultural change. This is an unfamiliar world, where connections between people in distant places are fragmented, where death is an ever-present and accepted part of life, spirits walk, ancestors form a palpable presence and any unknown person presents a threat. Things are not all well in the world, as a lack of rain and depleted wild animal stocks present a challenge to those, such as the inhabitants of Aynalı Tepe and their hunter-gatherer friends, who have not yet fully converted their lifeways to agricultural production. There are tensions within the settlement, where personal ambition and rigid lineage rules lead to murder and fragmentation, and where politics, belief, identity and economy all play their part in the political world. Personalities and lineages are intimately linked with the buildings that form the focus of contemporary archaeological endeavour, with many peculiar aspects of Southwest Asian Neolithic houses – the repeated building phases, burials under the floors and decoration – being integrated into the lifeways of the protagonists.
As you would expect, the parallel narratives are connected, but not in a forced manner, with the Neolithic narrative explaining the significance and meaning of some of the static archaeological evidence exposed by the fictional dig team, and introducing some pleasing metaphysical influences – all implied – to the latter stages of the plot. Locating the action in a fictional site similar to, and indeed inhabiting the same fictional world with, Çatalhöyük allows the author to draw on the information from that site while allowing him the freedom to give Aynalı Tepe its own past and interesting archaeological present without fear of libel. I wondered whether the proposed project would indeed raise funding given its proximity to the funding sink of Çatalhöyük.
The Neolithic passages are worthy and textured acts of interpretation, providing plenty of food for thought on the limits of archaeological inference. As a sucker for historical fiction and a fan of this type of archaeological writing – used to great effect in more academic-focused works such as Mark Edmond's (1999) outstanding Ancestral Geographies of the Neolithic and various chapters in Ian Hodder's (2006) Çatalhöyük Perspectives – I enjoyed the complex picture of life presented. As one who has been fortunate enough to work on several Neolithic sites mentioned in the text, the account provided another way of visualising and exploring some of the many unanswered questions about the period and place. This type of work is all about getting inside the past and trying to understand ancient times from a human, embodied, perspective. It is not for everyone and I can hear the cries of 'how can you prove that' from the empiricist corner of the room, but much of Swigart's book is all about the challenges of contemporary archaeological theory at an ontological and epistemological level. The Neolithic narrative is not pure fantasy and baseless speculation – it is framed by science-based research and this provides the perfect space for discussing what we are really trying to do. The research is well done and includes many of the interpretations that have emerged from a huge archaeological effort at Çatalhöyük and elsewhere. Some of the interpretations I disagree with – I do not believe that farming was of secondary subsistence significance at Çatalhöyük even though this has been repeated so many times it now seems to be treated as fact – but all are founded on scholarly works that can be followed up via the concise but relevant bibliography. Some of the scenarios really provided food for thought and my favourite was the visit of Shelsan and Boren to an abandoned Aşıklı Höyük – not named but clear from the description – a large settlement pre-dating Çatalhöyük in western Cappadocia. Comparative chronology has never been so vividly portrayed. I also enjoyed how the flow of the seasons, affecting everything from residential mobility to gathering activities, was woven into the story, a subject I have mused on myself for Çatalhöyük (Fairbairn et al. 2006). Seasonality is one of the many areas of the past poorly served by traditional academic prose and numerous others – belief, medicine, social structure – are dealt with effectively.
The contemporary story helped to serve up the Neolithic, but acted as a valuable, if at times deliberately stereotypical, play about the intricacies of contemporary archaeological practice, including the endless political and ethical hurdles that we have to confront. Director Bryson Jones is of uncertain ethical standing, being obsessed by media attention, accepting potentially tainted money for his dig from a secret donor, and able to provide some 'ethically challenged' solutions to the loss of the all important Alice. Realist or rascal? That story in itself is clearly designed to open a door into the shadier side of antiquities dealing and has a nice twist in the tail that opens all manner of speculations on the role and motivations of Jones, his sponsor and the dealer Rolf Butcher. The tensions between archaeological theory and practice, personified in the form of director and 'digger', an obvious and increasingly tired theme clearly derived from Hodder's influence on the book, are explored in a thankfully unlaboured way. Chapter 7 provides a nice viewpoint on how different people may interpret and view the past, especially those beyond the academy. Among those with a 'take' on the finds are the mother goddess worshipers, whose interludes are entertaining and serve to illustrate the role of archaeology, in this case in the form of Maria Gimbutas and followers, in ongoing religious debate. Having direct experience of some goddess worshipers at Çatalhöyük, Swigart's treatment of their personalities, ideas and motivations is both accurate and kind.
To quickly deal with technical matters, the volume is handsome, produced on high quality paper graced by two attractive and complementary fonts, with each chapter headed by a stamp seal impression placed in the top corner of the page. A striking wall painting graces the cover, curiously from Ain Ghazal in Jordan and not one of the many from Çatalhöyük, and with a glossary completes an attractive package. There are a few typos, but generally the text has been carefully edited.
Overall, I enjoyed this book in which the author provides a crisp, accessible and enjoyable archaeological text based on solid research and covering many of the current obsessions of Anglo-American archaeologists. It would have been easy to get lost in the vast outpourings of archaeologists in this region, but Swiggart manages to avoid turgidity and allows the reader space to both enjoy the plot and ask questions. There was a lot of humour in the book – the passage concerning the naming of Alice in Chapter 7 made me laugh out loud – and I suspect I could recognise friends from the Çatalhöyük project in Swiggart's Aynalı diggers. Using a different narrative form, we see many of the tensions and personalities portrayed in Michael Balter's (2006) The Goddess and the Bull and the two provide a valuable source for exploring contemporary archaeology is all of its uncertain complexity. The Stone Mirror is a unique and valuable addition to the growing Çatalhöyük/Neolithic library, allowing difficult contemporary scenarios, unavailable to Balter, to be played out in a fictional parallel world. It also provides an easy entry point to interpretations of this period and would prepare newcomers well for more academic synthesis such as Hodder's (2006b) excellent The Leopard's Tale.
The author's preface states that The Stone Mirror is an attempt at a narrative-based archaeology text book and I contemplated this aim as, coincidentally, I revised and started teaching in my university's introductory archaeology course. While the book lacks many of the methodological and theoretical details required of text books, the scope of subject matter and the synthetic treatment of past and present make the book a potentially invaluable teaching tool. The fact that interpretations can be followed up in the detailed academic texts produced by Hodder's team and others in the region mean that there are limitless possibilities for discussion sessions and class research exercises on everything from dating methods to ethics. The book's structure, at first slightly puzzling with chapters split into named subsections, provides perfect bite-sized vignettes for tutorial or lecture components. I could see the volume being used alongside a more standard text book as the fuel for tutorial sessions. Incidentally, a dramatisation, perhaps in spoken form would allow even more teaching possibilities and could make use of some of the dramatic Neolithic scenes. For Australian universities, the specific geographical content, focused on Southwest Asia, may limit the book's usefulness in those departments with an Australasian focus, however, I recommend it as a must for university libraries. As ever, the over-inflated Australian list price at $47.99 may also limit sales, especially to cash-strapped undergraduates. How this can be a fair reflection of the book's value at a time when the US list price is $21.99 and the exchange rate of 1.1 Australian dollars to the US dollar – that means the equivalent price is in fact AU$25 – is beyond my comprehension. I suspect interested parties should explore the anti-intuitive savings of international delivery.
References
Balter, M. 2006 The Goddess and the Bull. Çatalhöyük: An Archaeological Journey to the Dawn of Civilization. Walnut Creek: Left Coast Press.
Edmonds, M. 1999 Ancestral Geographies of the Neolithic: Landscapes, Monuments and Memory. London: Routledge.
Fairbairn, A., E. Asouti, N. Russell and J. Swogger 2006. Seasonality. In I. Hodder (ed.), Çatalhöyük Perspectives: Themes from the 1995-1999 Seasons, pp.93–108. Cambridge/Ankara: McDonald Institute for Archaeological Research/British Institute of Archaeology in Ankara.
Hodder, I. (ed.) 2006a Çatalhöyük Perspectives: Themes from the 1995–1999 Seasons. Cambridge/Ankara: McDonald Institute for Archaeological Research/British Institute of Archaeology in Ankara.
Hodder, I. 2006b The Leopard's Tale: Revealing the Mysteries of Çatalhöyük. London: Thames and Hudson.
Andrew S. Fairbairn
Review of 'The Stone Mirror: A Novel of the Neolithic' by Rob Swigart
June 2009
68
63-65
Book Reviews
You must be a member to download the attachment (
Login
/
Sign up
)