Review of 'The Meaning of Water' by Veronica Strang
01st December 2007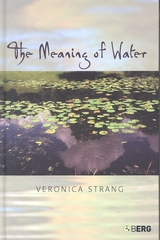 The Meaning of Water by Veronica Strang. Berg, Oxford, 2004, 274 pp., ISBN 1 85973 748 X.
Ingereth Macfarlane
Australian Centre for Indigenous History, Research School of Social Sciences, The Australian National University, Canberra ACT 0200, Australia
If ever a book was of the current zeitgeist, it is this one. Veronica Strang opens The Meaning of Water with an 1846 epigram from Benjamin Franklin: 'When the well is dry we know the worth of water' (p.1), which neatly identifies the accelerating global shift from water as a taken-for-granted resource, to water as a focus of concern and conflict. The title and goals of the book, however, take us even further through water as a practical necessity and a universal resource, into attention to people's relationships to water as meaningful and mediated through learnt cultural experience. The study shows that the particularities of these meanings alter the way people relate to their waters.
Strang's book aims to provide a 'detailed picture of water use and management in the UK' (p.vii) based on independent ethnographic research in the StourValley in southern England. As she says, 'in this relatively calm and ordinary place, all of the undercurrents which add pressure to much more intense conflicts about water are present and can be explored' (p.3). For an Antipodean reader, the book thus provides a corrective to any assumption of Australian exceptionalism in our relations to water use and supply: what might seem to be a relatively soggy part of the UK also suffers from problems with water. Strang makes the important point that the universal indispensability of water makes it appropriate to cross-cultural comparisons and to consideration of the status of such universals (p.5).
Sponsored in part by nine UK water boards, the research has an overt orientation towards practical policy applications. Strang has consulted widely with local and national bodies, governmental, recreational, business and conservation interests, as well as individuals, using questionnaires, interviews, conversations and participatory observation of StourValley people's relations with water facilities and water places. A salutary aspect of Strang's research is that it intersects social science perspectives on management and contemporary politics of water with an anthropologically-informed study of individual experiences and embodied practices in relation to water. These perspectives are then within a long-term historical and archaeological context.
The people of Dorset themselves are puzzled by the trends they are experiencing towards reduced water quality and quantity and are concerned by its ecological and cost impacts. Government policies and educational programmes emphasise the need to reduce usage, yet more and more water is consumed. It is the cultural and historical context for this apparent contradiction that the book seeks to explore.
As in her previous PhD research in northern Australia, published as Uncommon Ground: Cultural Landscapes and Environmental Values in 1997 (Berg), anthropologist Veronica Strang is attuned to the material and spatial aspects of the world as they both reflect and structure cultural meanings. Archaeologists will appreciate her approach when she writes: 'Much can be gleaned about how people think and feel about water by considering the artefacts and technology through which it is contained, controlled, moved around, treated, made decorative or made sacred … water itself becomes an artefact' (p.6).
Strang provides an engaging picture of the changing cultural landscape of the Dorset area and patterns of water use and management that have shifted steadily away from collective control to privatisation (Part 1). She then looks at forms of water and examines the dimensions of people's sensory experience of water in terms of both its direct and its metaphoric and mythical qualities. She draws a telling conclusion:
Cast as the "source of life" and as a metaphor for "life time", water imagery is used in thinking about cycles of life and death, and microcosmic and macrocosmic circulation of various kinds … It provides a way of conceptualising the "substance" of the self, emotional states of being, and social relationships. All … contain a systematic order that can potentially be "disordered". Thus it is unsurprising that water issues such as droughts, floods and pollution create enormous anxiety: resonating with all of these linked associations, these are literally and meaningfully "life threatening" (p.79).
Much has been made of the inappropriateness of colonial, non-Indigenous attitudes to the Australian environment, with expectations learnt in places such as Dorset, where there is plentiful, predictable, surface water. Australian Indigenous peoples' attention to the particularities of histories and stories of water places which recognise the distinct qualities of each, can be contrasted to generalising, 'de-materialising' and 'de-socialising' (p.246) often exploitative water policies. But Western European traditions in relation to water are left out of this binary construct. Strang provides a welcome reminder of 'holy water' (Chapter 5) and the cosmological order informed by the 'spacio-temporal model of change, transformation and regeneration' of the hydrological cycle (p.119), of healing and purification. We may have become disconnected from these deep Western European histories of 'hydrolatry' or water-based reverent practices, but they continue to influence Western European affective, moral or spiritual engagements with water's aesthetics and sacred qualities, even in secular times.
Strang makes a valid argument from the ethnographic data she has accumulated that these cultural meanings have been 'highly consistent over time' and are 'difficult to alter'. They 'exert a powerful influence over every decision involved in water use' and they form 'a deep rationale for increasing levels of usage' (p.3). This is richly demonstrated in the remaining three parts of the book. These provide a detailed, at times vivid, exploration of the diversity of contemporary interests as they are enacted in the supply and consumption of water in the StourValley. The economic and political workings of private water companies, the assumption or rejection of various forms of 'ownership' of water, and the actions of competing conservation and development interests, are all enlivened by quotes from the individual voices involved.
The chapter on 'watering the house and garden' considers water in the domestic sphere. The existence of powerful associations between unlimited access to water and 'symbolic and practical affluence' (p.198) are set out: 'limitations on water carry unavoidable connotations of poverty and deprivation' (p.199), although unlimited access is recent – in 1951, 41% of Dorset houses had no built-in bathing facilities and 22% no piped water. Interviews show that those who remember hauling water by bucket from a well are those most inclined to limit their water use now. The assumption that water supply cannot be acceptably limited goes beyond sanitary considerations into the realms of social order. The perceived risk of smells, fluids, dirt of others in recycling and greywater are fuelled by social anxieties: consider the niceties of whether or not to flush (p.204). Gardens, as the public expression of a household's creativity, nurturance and a 'natural' fertility further this tension between the wider social, environmental and economic realities and the drives to increase domestic water consumption (pp.205-208).
Education programmes have successfully developed levels of awareness of the need for reduction of water pollution and usage, but 'the only problem was that this made little or no difference to the way in which they used water' (p.240). Having read this study, we can see why, as appeals to rational arguments will not touch the sources of people's expectations and attachment to particular relations to water.
Policy-makers receive no dot-point solutions here for how to change current practices of both water suppliers and users. But they and everyone who has pondered the links between the many dimensions of human relations with water – physical, ecological, psychological, theological, historical, practical and economic – will gain the insights they need to understand why this is so difficult.
The book as a whole skilfully tacks between the local and its relevance to general principles. It presents an important comparative study for anyone setting out to understand community and individual relations to water. At some points the digest of large amounts of material can read more as a list than a synthesis, but it is always a coherent and valuable guide to the diverse materials drawn upon. The Meaning of Water shares some of the important qualities of water itself: it is refreshing, reflective, an indispensable source.
Ingereth Macfarlane
Review of 'The Meaning of Water' by Veronica Strang
December 2007
65
60-61
Book Reviews
You must be a member to download the attachment (
Login
/
Sign up
)