Review of 'Sustaining Heritage: Giving the Past a Future' by Tony Gilmour
01st June 2009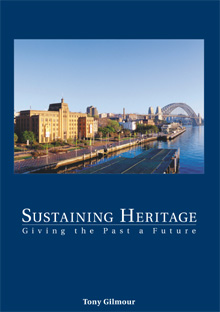 Sustaining Heritage: Giving the Past a Future by Tony Gilmour. Sydney University Press, Sydney, 2007, 191 pp., ISBN 978-1-920898-71-7.
Richard Mackay
Godden Mackay Logan, 78 George Street, Redfern NSW 2016, Australia
Concepts of what constitutes 'heritage' and the theory and context which underpin cultural place conservation as a social good have evolved rapidly following the advent of Australian heritage legislation in the 1970s. With a recent explosion in the number of listed places and a more enduring mention of heritage in the national discourse, the notion of 'sustainable heritage' is a timely and relevant concern. Tony Gilmour's book Sustaining Heritage is therefore a welcome addition to the burgeoning shelves of heritage management literature.
Gilmour's volume presents a plain English synopsis of a Masters dissertation completed at the University of Sydney in 2005. At times the book reads as a competently edited extract from the larger academic corpus. It is therefore surprising, given its own academic heritage, that the book is sometimes loose with terminology and in a few places erroneous. The implicit assumption that 'heritage' equates to 'buildings' might have been made more explicit in both title and text. Readers expecting any substantive consideration of archaeological sites, Aboriginal places or natural heritage will be disappointed. A second assumption that heritage listing imposes additional costs on the owner of a listed place raises some doubt regarding Gilmour's general points about economic viability. Nevertheless, he does raise a number of critical issues and makes both useful and provocative arguments that contribute to contemporary thinking about how heritage is regulated, funded and managed in Australia.
Professor Edward Blakely's foreword baldly asserts that the 'basic notion of heritage is to add value and not to stop the future' (p.v). The scene is thereby set for an ensuing focus on building sustainability – with discussion of adaptation, commercialisation, economics and institutions – rather than less tangible notions like value, or inheritance. The introductory chapter pursues this theme, suggesting that the (assumed) impact of heritage listing – on funding responsibilities, property rights and residential social patterns – has occurred with little discussion. While Gilmour's research did pre-date the recent Commonwealth Productivity Commission Inquiry into heritage, contact with Commonwealth or State heritage agencies might have corrected this misapprehension. Similarly, some additional examination of the statutory listing processes across the nation might have revealed that listing without wide-ranging consultation with residents and other stakeholders is the exception, rather than the rule.
A strength of Sustaining Heritage is the analysis of several case studies, covering both heritage places and agencies. Data from annual reports, other research and personal interviews combine to provide a range of insights and conclusions. The case of the MaritimeServicesBuilding at Circular Quay in Sydney (and its tenant the Museum of Contemporary Art) underlines the complexity of the listing process, the effects of political intervention and the challenges that may be faced by public sector agencies with major heritage assets. This example also seems to refute an earlier suggestion that 'the best way to protect [heritage] for future generations to enjoy is for it to be given legally enforceable protection' (p.46). Gilmour's examination of those he terms the 'new guardians of heritage' is engaging, but selective. The example provided by the British National Trust is relevant, but may not be comparable to Australian counterparts, or generally applicable, given the extraordinary patronage and income arising from visitors to historic homes in England and Wales. Gilmour is therefore harsh in his critique of the Australian National Trust organisations for not taking up some of the fundraising initiatives of its British equivalent.
Economic sustainability is addressed in two ways; through examination of recent economic theory and literature that places an economic value on heritage (including the notion of 'cultural capital'), and by narrated examples of trends and innovations, such as transferrable development rights, the English Heritage Lottery and securitisation of future entrance receipts. The focus is on publicly-owned buildings and museums. There is no detailed engagement with the reality that the majority of listed buildings in Australia, for example, are conserved by the residents who continue to use them for their original purpose, by living in them – in some cases basking in the reflected glory brought by the status of living in a 'heritage listed' home.
Sustaining Heritage chronicles a moment in the history of heritage conservation and has a particularly Australian focus. Gilmour's thoughtful analysis, informative case studies and conclusions provide some valuable insight and relevant messages. He is strongest in his perspicacious observations of the need for viable economic models, transparent processes and community engagement. His comments on heritage governance and the perils of multiple listing statutory regimes are timely as Australia engages with an evolving federal regime and changing community perceptions of what we want to pass on to future generations.
Richard Mackay
Review of 'Sustaining Heritage: Giving the Past a Future' by Tony Gilmour
June 2009
69
70
Book Reviews
You must be a member to download the attachment (
Login
/
Sign up
)