Review of 'Shared Landscapes: Archaeologies of Attachment and the Pastoral Industry in New South Wales' by Rodney Harrison
01st June 2006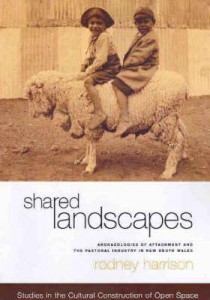 Shared Landscapes: Archaeologies of Attachment and the Pastoral Industry in New South Wales by Rodney Harrison. University of New South Wales Press, Sydney, 2004, xiv+240 pp., ISBN 0 86840 559 0 (pbk).
Lynette Russell
Centre for Australian Indigenous Studies, Monash University, Clayton Vic. 3800, Australia
The research contained within this monograph was funded by the Cultural Heritage Division of the New South Wales Department of Environment and Conservation. Testament to the collaborative nature of such research the book is jointly published by University of New South Wales Press and the Department of Environment and Conservation. As such it is both well-produced and academically rigorous. Pleasingly, especially for students, the book is competitively priced, which hopefully will ensure a deserved wide readership. Shared Landscapes emerges from an ambitious project which aimed not merely to approach an understanding of the historical and archaeological aspects of the landscape but to also delve into, critique and assess the current state of interpretation and management in New South Wales.
Shared Landscapes was a three year project concerned with two substantial regional case studies. The first was the East Kunderang Pastoral Station, now contained within the Oxley Wild Rivers National Park, west of Kempsey. The second case study involved the former Dennawan Aboriginal Reserve, now contained within the Culgoa National Park, in northern New South Wales (near Goodooga).The two regions were subject to extensive and thorough historical and archaeological survey, behavioural mapping and what might be termed oral testimony or even memory research. Behavioural mapping is described as 'recording the places that people use and their activities at them, including both maps of contemporary muse as well as "oral history mapping"' (p.58). The interpretation and analysis of these various means of recording locations, places and sites of significance are fascinating, showing that dual occupation (Aboriginal/non-Aboriginal) is rarely a form of sharing as the two (or many other) groups know the landscape in very different ways.
A note should be made about problematic nature of the use of the term 'shared'. A concern Harrison would appear to hold, having reflected on the concept more fully than in previous publications. In a recent book, Ian McNiven and I have attempted to engage with and critique the categorisation of the contact period as a shared space (McNiven and Russell 2005). Our concern is both terminological and conceptual. We argue that the term to 'share' suggests an invitation to participate or partake in. This term emphasises ideas of common possession and even common enjoyment. To 'share' denies the reality that for much of Australia's past, Aboriginal people were imposed upon; they were coerced and forced to occupy these locations that many researchers now consider to be shared. We have a lengthy and detailed critique of the term and the concept which does not need to be laboured here. Suffice to say, Harrison is much more optimistic than we are, suggesting that 'shared histories' can play a role in the renewal and maintenance of Indigenous culture and the conservative Anglo-Australian discourse of reconciliation.
Structurally Shared Landscapes comprises four sections. The first section is entitled 'History, Heritage and the Pastoral Industry'. This section considers and elaborates the project's methodology and its theoretical underpinnings. The second section is concerned with the first of the case studies – the East Kunderang Pastoral Station. In the third section, Harrison outlines the second case study – the Dennawan Aboriginal Reserve in northern New South Wales. In a reasonably short concluding chapter, Harrison attempts to develop the findings of the research and postulate a new model 'or understanding of what constitutes pastoral heritage in New South Wales, and throughout Australia' (p.218). This chapter also, significantly, explores some of the tensions and confluences around notions of shared histories, shared landscapes and shared heritage.
Harrison embeds the research within contemporary historical archaeological practice, heritage studies and landscape theory, which involves consideration of the natural, cultural (socially constructed), spiritual and biographical qualities of landscape. This approach in Harrison's hands ensures Shared Landscapes is focused on the relationships 'between travel, landscape, history and narrative' (p.57). In part, the strength of this approach comes from its collaborative nature. Harrison worked closely with historians to understand the documentary history of New South Wales's pastoral industry. The result is a rich text which demonstrates how both the cultural and natural landscapes were fundamentally impacted upon by pastoralism. This approach means that the interpretive model and the historical representation developed is landscape-based. Although individual locations such as stations, cattle and sheep corrals, shearing sheds and shearers' quarters are important, the history is instead understood through the entirety of the landscape.
Although heavily illustrated, Harrison does not undertake a study of the images per se. This should not be read as a criticism, rather that there is a potential future research project considering the rich archive of visual images relating to the pastoral history of southeast Australia and the Aboriginal and newcomer workers who maintained and extended it. Shared Landscapes is well-presented (though I fail to see the point of the flap inside the cover which could easily be printed on the reverse side of the cover card). The text is empirically rich and highly detailed. Harrison writes well, in a lucid manner with enough theoretical substructure to sustain the reader through the depth of the empirical material.
Ultimately Harrison's primary focus is the relationship(s) that Aboriginal people had with the pastoral industry and how their lifeways, culture, stories and connections were transformed by these interactions. Race and racism are conceptually and thematically woven through this history, affecting and controlling both people and their interactions. Aboriginal people in New South Wales are shown to have maintained their connections to and relationships with their country through the mechanism of the pastoral industry. As with any culture over time these relationships changed. However, the pastoral industry enabled Aboriginal people to 'maintain cultural identity and cultural traditions … often in the face of explicit government policies to … remove their distinct identity' (p.219). As such, there is optimistic hope that the same relationships, through the vehicle of this research, might now result in Native Title designations or other forms of land justice.
Shared Landscapes represents a new and important field of research. It will be a valuable resource for professionals in the heritage industry, academic researchers and students. In many ways, this project should be used as a benchmark against which other heritage surveys might be measured.
References
McNiven, I.J. and L. Russell 2005 Appropriated Pasts: Indigenous Peoples and the Colonial Culture of Archaeology. Walnut Creek: AltaMira Press.
Lynette Russell
Review of 'Shared Landscapes: Archaeologies of Attachment and the Pastoral Industry in New South Wales' by Rodney Harrison
June 2006
62
58-59
Book Reviews
You must be a member to download the attachment (
Login
/
Sign up
)