Review of 'High Lean Country: Land, People and Memory in New England' edited by Alan Atkinson, J.S. Ryan, Iain Davidson and Andrew Piper
01st December 2007
Sharon Sullivan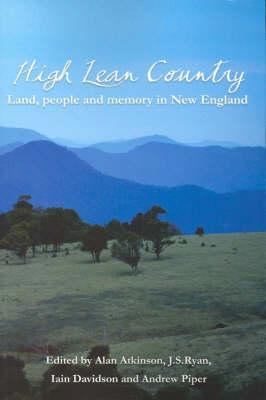 High Lean Country: Land, People and Memory in New England edited by Alan Atkinson, J.S. Ryan, Iain Davidson and Andrew Piper. Allen and Unwin, Crows Nest, 2006, xv+416 pp., ISBN 1-74175-086-5.
Sullivan Blazejowski and Associates, 580 Boundary Creek Road, Nymboida NSW 2460, Australia
High Lean Country is a publication project of the Heritage Futures Research Centre of the University of New England. The illustrated volume offers a series of perceptions by scientists, social scientists and humanities scholars about New England heritage, and its great strength is that the combination of the results of these varied disciplines gives us an unusually wide-ranging picture of New England from many points. The Heritage Futures Research Centre is an interschool and interfaculty group of scholars committed to exploring all the elements of New England's heritage in its broadest sense, and this innovative publication pulls together the relevant research which has been generated by the Centre. In it the distinct heritage of New England, New South Wales, is described, discussed and analysed. The book falls roughly into three sections: physical environment, peopling and people and cultural expression. The range of writers and topics is wide and varied and the book is rather more a series of essays on New England heritage themes, than a chronologically-driven local or regional history, though the key events and moments of history are covered and analysed from many perspectives. The result is a stimulating and scholarly volume, which expresses the idea of heritage in its fullest sense.
An example of the wide-ranging perspectives covered in High Lean Country and of particular interest to archaeologists are the sections on archaeological heritage in New England. June Ross' paper 'Seeing red: Musings on rock art', gives us a vivid picture of how one might see a particular New England rock art site in its setting and what one might deduce from it. Wendy Beck, discussing ceremonies, cold climate adaptation and group movement, builds a picture of the archaeologist's evolving construction of the New England Aboriginal cultural landscape and in doing so pays homage to the heritage of archaeology in New England as pioneered by Isabel McBryde and then Luke Godwin. Rodney Harrison describes the ephemeral, subtle but still very distinctive evidence of the role of Aboriginal people in pastoral New England, the effect of this life on its Aboriginal participants and the shared sense of collective social identity they derive from it. Pamela Watson deals effectively with the contribution of historical archaeology to the region's self-perception, and demonstrates how the comparatively extensive historical archaeological investigations in New England have provided new information, and changed the perceptions people have of their past as settlers.
The inclusion of archaeology and a wide-range of other disciplines, all focused on different aspects of the heritage of New England, gives us a much more in-depth picture of the region's heritage than we often get in regional history written from one perspective. It is a stimulating and surprising journey, with many reverberations and connections made by this interplay.
One of the themes that runs through the volume is the singularity of New England as 'high lean country', most of it higher than anywhere in England and the distinctive culture which this created for both Aboriginal people and settler New Englanders. The foundation of the University of New England, through the philanthropy of founding settlers and the highland romanticism and strength of the New State Movement (a strong memory of my childhood), culminating in a failed referendum aptly illustrate this theme.
The volume has many riches notably the range of regional poetry (including the writings of Judith Wright and Les Murray) used as a running theme throughout. Of course as a New Englander, born, bred and educated in this cold and some might say provincial environment, I could be expected to be less than objective on the subject of this book. However, I think this work provides an excellent model for a regional heritage volume, which goes beyond one-dimensional history, and gives us a very full picture of past and present New England.
Sharon Sullivan
Review of 'High Lean Country: Land, People and Memory in New England' edited by Alan Atkinson, J.S. Ryan, Iain Davidson and Andrew Piper
December 2007
65
63-64
Book Reviews
You must be a member to download the attachment (
Login
/
Sign up
)