Review of Handbook of Forensic Anthropology and Archaeology
01st June 2010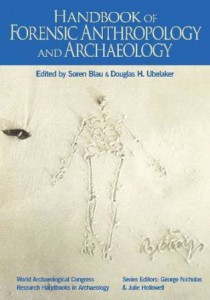 Handbook of Forensic Anthropology and Archaeology by Soren Blau and Douglas Ubelaker (eds). Research Handbooks in Archaeology Series, Left Coast Press, Walnut Creek, CA, 2009, 534 pp., ISBN 978-1-5987-4074-5.
Reviewed by Judith Littleton
Department of Anthropology, Faculty of Arts, University of Auckland, Private Bag 92019, Auckland Mail Centre, Auckland 1142, New Zealand
In the last few years there have been many new volumes on forensic anthropology and archaeology. With the exception of Oxenham's 2008 edited volume Forensic Approaches to Death, Disaster and Abuse (Australian Academic Press, Bowen Hills), most have had a northern hemisphere focus. This volume, emerging as part of the World Archaeological Congress Research Handbooks in Archaeology Series, avoids that and has a much more representative mix of papers from across the world, including non-English speaking areas. The term 'handbook' however is misleading. This is a substantial volume (41 chapters) which gives much more of an overview of the current state of forensic archaeology and anthropology than a manual of practice.
There is an interesting conflict highlighted by the series editors (Hollowell and Nicholas) at the beginning of the volume. Citing the WAC Tamaki-Makarau Accord on the Display of Human Remains and Sacred Objects, they requested that authors comply with the Accord by seeking permission from affiliated descendents or descendant communities. The response by the writers of the various chapters was to comply in respect of identifiable persons. The solution and many of the chapters highlight that most of these authors are closely involved and very keenly aware of the ethical dilemmas surrounding their work. In no instance are the photographs used for prurient interest, but they do highlight that archaeology and anthropology are visual endeavours – to try to explain the sheer breadth of work in the tsunami for instance without the accompanying photographs would be a failure.
The first section deals with a historical overview and highlights the geographical breadth of the book. Ubelaker provides a conventional history of the development of forensic anthropology in the United States, however the other chapters in this section are more interesting. Cox, writing of the United Kingdom, and Donlon, of Australia, both provide thoughtful evaluations of the state of work. For those having to deal with endless student enquiries regarding forensic work, I can recommend these chapters. They provide an accessible and frank evaluation of the amount of work and prospects for those in the field. The Canadian chapter by Skinner and Bowie is much more optimistic in tone but again provides a good survey, as does the chapter from South America (Fondelbrider). Surprisingly there is a chapter by Etty Indriati on Indonesia which is really valuable. Indonesia, despite being the focus of forensic work by Australians and others (e.g. Briggs and Buck this volume), is rarely evident in the forensic literature except as a source of case studies. Similarly, for an English-speaking audience, the chapters from France, Italy and Spain where forensic anthropology exists within the discipline of legal medicine point to significant differences across the world in the role and status of forensic practitioners.
The second section deals with forensic archaeology but only contains two chapters. These pick up on two aspects of archaeological practice: finding buried objects and interpreting the buried environment. The small number of chapters in this area highlights the limited nature of archaeological work in regard to forensics. Holland and Connell's chapter on surveying reviews traditional as well as more recent techniques. They emphasise (contrary to some more optimistic commentators) the goal of such surveys: to reduce the area requiring ground truthing. A further emphasis is that geophysical methods are only as good as the analyst and his or her post-processing of the data. Cheetham and Hanson deal with the differences between, and requirements of, forensic and traditional archaeological excavation and recording. The chapter introduces a series of more methodological questions such as standardisation and justification of practice. Neither chapter provides the sort of detailed overview implied by the term 'handbook' but both highlight the need for thoughtful evaluation of method under the differing circumstances of forensic excavation.
The third section dealing with forensic anthropology is more familiar material – the diagnosis of bone as human or nonhuman, dating, comingling, ancestry, age, sex, stature, trauma, taphonomic effects and craniofacial identification. Some of the chapters are simply a review and explanation of techniques (e.g. Mulhern, Sauer and Wankmiller, Braz, Crowder, Willey, Stephan). They are useful as a source of references and brief overview but not meaty enough to be used by themselves. Others such as Thompson on burnt remains are more a summary of the history of studies than a substantive survey. However, other chapters go well beyond the summary. Byrd and Adams describe a range of techniques to identify commingling but go beyond that to raise ethical questions about the procedures used. They highlight that all forensic work has a range of stakeholders and that desires of the community may not match the techniques being engaged. Clement's chapter on forensic odontology discusses similar ethical issues and in particular the effects that a failure to identify the missing may have on those who are left. On a different line, Rogers' chapter on aging rather than listing techniques examines some of the underlying principles and the interpretative paradigms used when ageing skeletal remains. It is a good discussion of the need for a more fully integrated and anthropological programme. These three chapters stand out in highlighting the development of a discipline with a broader focus than the pure identification of human remains.
Part four consists of case studies. There are two chapters on domestic forensic work (Wolfe Steadman and Hunter). The remainder deal with disaster victim identification (the tsunami, the Bali bombings, United States guidelines) and political violence (the Solomons, former Yugoslavia, Guatemala, Iraq). All emphasise the interdisciplinary nature of the work and the limited role that forensic archaeologists and anthropologists may play. However, the chapters by Sledzik, Congram and Sterenberg, and Flavel and Barker raise further ethical issues and the potential role of anthropologists in dealing with the interaction of family members and the needs of society. In particular the Guatemalan and Iraq chapters raise the potential conflicts between humanitarian and evidentiary goals of excavation and identification. The Iraq chapter is especially interesting in its discussion of the complex organisational landscape of mass grave excavation.
The final section is labelled 'The Professional Forensic and Archaeologist and Forensic Anthropologist'. Blau raises a range of ethical issues, many of which have been highlighted by earlier authors but are bought together here. Wright and Hanson write about dealing with large organisations, in a chapter which places the forensic archaeologist in the foreground rather than as a member of a large interdisciplinary team. The chapter by Ross and Kimmerle on quantitative methods sits rather oddly in this section. It fits more as a primer for new methods in dealing with the statistics of identification. Henneberg describes the stages of being an expert witness in a very accessible and practical fashion while Ranson (with an Anglo-Australian bias) deals with the legal aspects of identification. This section seemed to be more of a mixed bag than the other sections of the book which were very coherent.
In sum this volume is much more than the 'handbook' of the title suggests. In biological anthropology its closest parallel is probably the edited book by Cox and Mays, Human Osteology in Archaeology and Forensic Science (2000, Cambridge University Press, Cambridge). Many chapters can be mined as introductions to different aspects of forensic archaeology and human identification but could not be relied upon as manuals for practice. Other chapters, however, really serve as a detailed and very grounded introduction to the discipline, the current state of work, and the directions in which this work is going. That difference makes it hard to identify the audience for this book. In reality those teaching and working in areas of forensic anthropology will find it useful both for their own interest and as a source of set readings for students. It is a massive undertaking and, like the Oxenham volume before, it does serve to situate forensic anthropology and archaeology as concerns beyond the northern hemisphere.
Judith Littleton
Review of Handbook of Forensic Anthropology and Archaeology by Soren Blau and Douglas Ubelaker (eds).
June 2010
70
74-75
Book Reviews
You must be a member to download the attachment (
Login
/
Sign up
)