Review of 'Fantastic Dreaming: The Archaeology of an Aboriginal Mission' by Jane Lydon
01st June 2011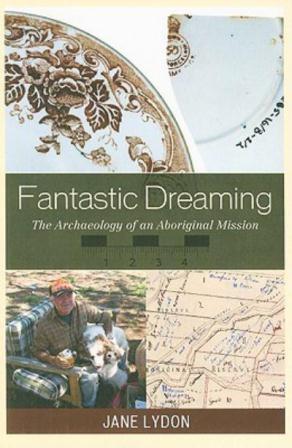 Fantastic Dreaming: The Archaeology Of An Aboriginal Mission by Jane Lydon. AltaMira Press, Lanham, MD, 2009, xvii+319pp, ISBN 9780759111042 (pbk).
Celmara Pocock
Aboriginal and Torres Strait Islander Studies Unit, The University of Queensland, St Lucia Qld 4072, Australia
Jane Lydon may have liked to write a postscript to her recent publication, Fantastic Dreaming: The Archaeology of an Aboriginal Dreaming following recent events at Lake Tyers in East Gippsland. In March 2011 the Aboriginal residents staged a blockade at the entrance of the Lake Tyers settlement in an effort to regain self-governance (ABC News 2011; Foenander 2011; Jackson 2011). This appears to be a case of history repeating itself in an endless cycle. The protest against the government-appointed administrator came to a head over a lack of consultation and decisions that directly curtailed Aboriginal cultural practices and values. Among the highlighted complaints is the administrator's decision to impose bans on building shacks in nearby bush, and on relatives camping in the settlement. As Fantastic Dreaming eloquently shows, these apparently simple administrative or building decisions deny and curtail Aboriginal cultural practices. The failure of administrations to recognise and accommodate the social and cultural significance of Aboriginal extended families, sharing practices and mobility, and the location and fabric of housing appear as prevalent now as they were in the past. Lydon's book is centred on an archaeological study of the Ebenezer Mission in Victoria, but its broader theoretical position is to understand the surveillance of housing and domestic spaces as a central element in the governance and control of Aboriginal lives. It simultaneously illustrates the importance of these spaces for independence, resistance and resilience for many Aboriginal people. Equally important, the book shows how these practices continue to shape Aboriginal relations with the broader Australian community.
Lydon's work is highly commendable at many levels but this synergy between current events and the interpretive core of the book show her particular ability and commitment to identify and engage with history and archaeology as they manifest in the present. She has worked closely with Aboriginal individuals and communities to make the work relevant and to tell a human story. This is a space that has been particularly well-served by 'contact archaeology' in Australia in recent years, when many other branches of the discipline appear to have forgotten that they are telling stories about people and that those people can contribute to how we understand the past and the present.
In aiming to tell a story about Aboriginal people that is not confined to a static past, Fantastic Dreaming addresses Denis Byrne's (2003) call for archaeologists to recognise Aboriginal history in cultural heritage assessments or risk becoming complicit in the erasure of Aboriginal people from the landscape. It seems that this remains a challenge for Australian archaeology, not only in the arbitrary split between 'Aboriginal' and 'historic' heritage that characterises legislative frameworks and administrative functions, but also in the interpretation of material culture. More specifically, the challenge is to read cultural materials from Australia's historic period not simply as products of particular cultural (colonial) manufacture, but of cultural (Aboriginal) use and patterning. Fantastic Dreaming recognises this need and explicitly aims to interpret archaeological findings in this way. Lydon is particularly wary of essentialist characterisation of archaeological assemblages and stresses that the adoption and use of 'European' artefacts does not represent abandonment of Aboriginal culture and identity.
The book's focus on housing and domestic spaces is an insightful one not only for recognising the significance of the domestic sphere in regimes of surveillance and control, but because of their potential to be read archaeologically as spatial and material expressions. Archaeological material and its interpretation, however, are a comparatively modest part of the book. Historical archaeology has always had to justify its contribution as an adjunct to and independent source from historical research. The surveillance and administration of Aboriginal people under assimilationist and segregationist regimes generated an enormous amount of documentary evidence, and Lydon has made extensive and articulated use of these sources to provide the context for the archaeological project and its final interpretation in the closing chapter. It is perhaps because these textual sources are so prevalent, and largely underutilised, that Lydon has necessarily given them primacy. However, the subtitle of the book might build expectations of a richer or more exclusive presentation of archaeological evidence, and there are instances where further discussion of archaeological findings and interpretation might be warranted. Correspondingly, the title might draw a broader readership if it reflected the significant history that this book constructs through its elegant engagement with documentary, oral, photographic and archaeological sources, and the way in which it brings it into the present through its thoughtful analysis of heritage decision making.
Jane Lydon's Fantastic Dreaming is a scholarly work that bears the hallmarks of this researcher as someone engaged with theory, and skilled in the interpretation of multiple sources. It is a book that furthers the important contributions being made by historical archaeology to questions of cultural exchange and continuity; and to understanding current issues in Aboriginal society. And not least of all it provides a detailed insight into the history of Victorian missions, the often conflicted emotions associated with these histories and the enduring significance of Ebenezer in the lives of Wergaia people.
References
ABC News 2011 Lake Tyers protesters plan march for autonomy. Retrieved 21 March 2011 from http://www.abc.net.au/news/stories/2011/03/21/3169396.htm.
Byrne, D. 2003 The ethos of return: Erasure and reinstatment of Aboriginal visibility in the Australian historical landscape. Historical Archaeology 37(1):73-86.
Foenander, C. 2011 Minister stands firm on Lake Tyers protest. ABC News Gippsland. Retrieved 29 March 2011 from http://www.abc.net.au/local/stories/2011/03/22/3170492.htm.
Jackson, A. 2011 Police bring officials through protest lines at Lake Tyers. The Age. Retrieved 23 March 2011 from http://www.theage.com.au/victoria/police-bring-officials-through-protest-lines-at-lake-tyers-20110322-1c55y.html.
Celmara Pocock
Review of 'Fantastic Dreaming: The Archaeology of an Aboriginal Mission' by Jane Lydon
June 2011
72
56-57
Book Reviews
You must be a member to download the attachment (
Login
/
Sign up
)