Review of 'Doing Archaeology: A Cultural Resource Management Perspective' by Thomas F. King
01st December 2007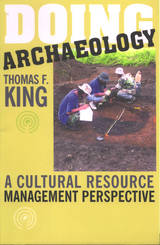 Doing Archaeology: A Cultural Resource Management Perspective by Thomas F. King. Left Coast Press, Walnut Creek, CA, 2005, 168 pp., ISBN 1-59874-003-2.
John Craib
Bonhomme Craib and Associates, PO Box 61, Mudgeeraba Qld 4213, Australia
Over the last decade, it seems as if lots of people are 'doing archaeology' and writing about it. A quick search on Amazon.com shows no fewer than five books with this phrase in the title. Historical archaeologists do it, lab people do it, people Down Under do it, and even people in the land of the Bible do it. Nevertheless, when Tom King writes about doing archaeology in the context of cultural resource management (CRM), it is worth having a read even for those of us 'doing it' in Australia.
King has been in the business of CRM for several decades and has had active roles as both a practitioner and administrator. This dual perspective is crucial for the purposes of his book, as many CRM people tend to see issues from only their side of the desk. King draws on his experience to provide specific examples of situations. A strength of the book is that he does not discuss CRM in the abstract, but draws on specific examples
At a minimum this book is useful for providing information about how cultural heritage management (read cultural resource management) is structured and operates in the United States and Micronesia. King was instrumental in developing the historic preservation programmes in United Nations Trust Territories (i.e. Micronesia) in the late 1970s–early 1980s.
King states up front that he is writing for a general, non-technical audience. As a result, it covers a variety of topics beginning with archaeology 'generally' (Chapters 1-4), and then proceeds to archaeology in the context of cultural resource management (Chapters 5-8). It is written in an easy, enjoyable style.
The first four chapters present a general background to archaeology directed at a public audience. This includes dispelling the usual myths about the discipline, such as 'archaeology and dinosaurs' as well as 'treasure and tombs'. King also provides a very useful discussion under the chapter heading of 'Why do archaeology' (Chapter 2).
The last four chapters deal specifically with CRM issues. A common theme throughout the book is that CRM, in whatever form, is fundamentally about doing research. As King states, 'for most archaeologists, research is the primary reason to be doing
archaeology' (p.29). Nevertheless, King admonishes that 'cultural resource management is not just archaeology' (p.37) and that the multiple interests in cultural resources must be recognised and respected.
Obviously written from a US perspective, it is informative to note differences in how contract work operates in the US system and Australia. Of fundamental importance is the ownership of archaeology; cultural materials on private lands are the property of the landowner. The fundamental CRM legislation is on the US Federal level, with each state organised around a State Historic Preservation Office. There is a well-defined hierarchy of contract positions jobs and it is degree-driven. If you have only a BA, then you will remain at the lowest level no matter what your experience or ability. The pay scale is relatively low; a BA will get you a maximum of about AUD150 per day. In more practical terms, it will take about two weeks of work in the US just to cover your airfare from this side of the Pacific.
For use in the classroom, Chapter 7 ('Key Issues on Cultural Resource Management') is ideally suited to generate discussion. King raises 13 issues in CRM, ranging from indirect impacts to repatriation and reburial. As he states, he doesn't try to provide answers, rather calls on readers to consider each on their own. These topics are not specific to the US but have relevance around the world. Readers will find his discussions of issues provoking.
King's book is useful on many levels for the non-specialist as well as those out there 'doing it'.
John Craib
Review of 'Doing Archaeology: A Cultural Resource Management Perspective' by Thomas F. King
December 2007
65
56
Book Reviews
You must be a member to download the attachment (
Login
/
Sign up
)