Review of 'Digging Up a Past' by John Mulvaney
01st June 2012
Review by Bruno David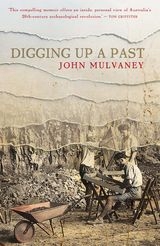 It is rare in Australia to be able to read the book-length autobiography of one's mentor. In itself this adds a very personal dimension to a book's reading. But in Digging Up a Past, this experience is multiplied by the fact that the author, Professor Mulvaney, was the one to instil a hitherto unparalleled level of professionalism to Australian archaeological field and ethical practice. This book thus represents a rare insight into the origins of modern professional archaeological practice in Australia ('where we come from') as informed by the giant on whose shoulders we all stand, from the personal experiences and viewpoint of the very man who made it all possible.
To review an autobiography is to reflect on the personal account of someone else's life: unless there are ethical issues to stand to account, the review of an autobiography needs to take in rather than judge that person's self-representation and version of events as personal experiences and values. This is an easy task to do in this case, partly because Mulvaney's words come from someone renowned for his straight-talking, and partly because he himself has, and continues to, set the very highest standards of ethical practice. In short, Mulvaney is renowned for 'talking the talk' and 'walking the walk': he is unmatched for speaking and writing in clear language, for speaking to social issues when required, and for fighting various causes without mixing words while at the same time deeply understanding the political realities of the situation at hand. And here in this book we have these two strands intermixed: a personal record of those aspects of life that Mulvaney has chosen to share with the world, as a 'family history' for his own kin; and a setting straight of the record for the sake of the discipline and the broader public and political field in which he has been involved all his professional working life. This book is a balancing act between these two aims – the personal and the public – but then again so are all published autobiographies. What we are left with after reading the last page is a sense of the social, political and archaeological scene starting around WWII to the present day, focusing especially on the discipline's key professional formative years of the 1960s to the late 1980s.
Digging Up a Past has 18 chapters: 1. A country youth; 2. RAAF service; 3. History recollected, 1946-51; 4. An archaeologist abroad, 1951-53; 5. Dawn of Australian archaeology, 1954-64; 6. Adventures in archaeology, 1965-69; 7. Globetrotting; 8. 1971-76 in retrospect; 9. Museums and heritage; 10. An English interlude 1976-77; 11. A surfeit of committees; 12. A Harvard year, 1984-85; 13. A rewarding retirement, 1986-89; 14. The Australian Academy of the Humanities; 15. Conferences and travel; 16. Confrontations; 17. Years with Jean, 1995-2004; 18. Coda – archaeological retrospect.
My friend and professional colleague Ian McNiven is wont to say to his friends, colleagues and students that it is our professional and ethical responsibility as archaeologists to familiarise ourselves deeply with our disciplinary history, not simply so that we don't just re-invent the wheel or learn from our mistakes, but, just as importantly, as a way of paying due justice and respect to our elders in whose footsteps we stand – a view that I entirely agree with. Professor Mulvaney, technically retired yet still a very active elder of our discipline, gives us numerous examples in this book of the kinds of practical hurdles a professional archaeologist can be expected to face in the course of their professional lives, and it is only by 'taking the bull by the horns', rather than shunning seemingly unsurpassable political situations, that the sought after social (and archaeological, as a social practice with social outcomes) benefits can arise. I fully recommend this book to all involved in Australian archaeology in any way and, paradoxically at a time when the available literature has outgrown available reading time, particularly recommend it as required reading for undergraduate students intending to become professional archaeologists in Australia. I imagine and hope that my recommendations are not needed for those of us who are personal friends or colleagues or students of Professor Mulvaney's.
If you are interested in purchasing this book, please click here to be taken to the publisher's website.
Bruno David
Review of 'Digging Up a Past' by John Mulvaney
June 2012
74
121
Book Reviews
You must be a member to download the attachment (
Login
/
Sign up
)