Review of 'Bridging The Divide: Indigenous Communities and Archaeology into the 21st Century' edited by Caroline Phillips and Harry Allen
01st June 2011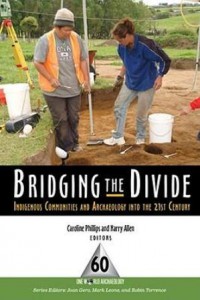 Bridging The Divide: Indigenous Communities And Archaeology Into The 21st Century edited by Caroline Phillips and Harry Allen. Left Coast Press, Walnut Creek, CA, 2010, 290pp, ISBN 9781598743920.
Reviewed by Christopher Wilson
Yunggorendi First Nations Centre for Higher Education and Research, Flinders University, GPO Box 2100, Adelaide SA 5001, Australia
The relationship between archaeologists and Indigenous communities has consisted of much conflict and debate since early investigations into the antiquity of Indigenous peoples' past. It is widely accepted that this 'division' has been created as a result of antiquarian practices such as the removal of Indigenous human remains from their burials and subsequent analysis, non-Indigenous driven research projects that exclude Indigenous involvement, and interpretations of the past that erase Indigenous people from the contemporary landscape. Some of these issues have been addressed in previous books that focus on the emergence of Indigenous archaeology (or archaeologies) and ongoing challenges for Indigenous archaeologists (see Nicholas 2010; Nicholas and Andrews 1997; Smith and Wobst 2005; Swidler 1997; Watkins 2000), however Bridging the Divide begins to advance the dialogue further to examine the contemporary nature of archaeology and cultural heritage management (CHM) and its relevance to the past for Indigenous communities. In particular, this book highlights the social, cultural and political concerns of Indigenous communities both locally and internationally and how archaeological practice is continuously being reshaped and redefined as a result of changes to institutional and legislative frameworks (i.e. heritage policies, mining exploration and urban development, Native American Graves Protection and Repatriation Act).
There are 12 chapters in this edited volume and although the focus is on Aotearoa/New Zealand and Australia, there are contributors from other colonised nations who share similar experiences. The introductory chapter by Harry Allen and Caroline Phillips 'Maintaining the Dialogue' provides an overview of the development of Indigenous archaeology, following the Indigenous rights movement and emergence of CHM. In addition they emphasise the importance of the World Archaeological Congress (WAC) in creating the space to begin the dialogue and Indigenous critique that paved the way for several guidelines to be drafted and adopted globally (i.e. Vermillion Accord on Human Remains). What Phillips and Allen argue in the forefront of this book is that a critical aspect to strengthening the relationship and therefore 'bridging the divide' between archaeologists and Indigenous communities is the involvement of Indigenous archaeologists who are able to 'engage in the dialogue from both sides' (p.18). Despite the contemporary view by Phillips and Allen (p.26-27) that Indigenous Australians and Maori have more control over their heritage than Native Americans, I argue that this struggle is more difficult to overcome in southern parts of Australia where colonialism has had major impacts on Indigenous communities. Although it is standard practice, and in many cases required by legislation, to involve Indigenous people in cultural heritage assessments and archaeological research, it is usually the case that Indigenous people are still not in complete control of their cultural heritage – this issue could have been acknowledged and further elaborated in some respects (although in Chapter 6, Anne Ross points this issue out in relation to Aboriginal Australian heritage legislation).
All subsequent chapters focus on issues relevant to particular community contexts in Australia, New Zealand, North and South America as well as the Pacific. Chapter 2, written by Choctaw archaeologist Joe Watkins, sets the scene for the volume by making one of the most explicit statements: 'Wake Up! Repatriation Is Not the Only Indigenous Issue in Archaeology'. Watkins argues that repatriation is not the only grounds for advocating the protection and ongoing management of Indigenous cultural heritage and Native Americans should 'move beyond' this issue and the critique of archaeology. An even more significant view expressed, is that the criticisms of archaeological practice by Indigenous peoples have often failed to actively change it themselves – a topic not often exposed between Indigenous peoples themselves which warrants further discussion and debate as we move beyond repatriation and the first decade of the twenty-first century.
Chapters 3–5 begin to examine deep philosophical issues in archaeological practice. Bridget Mosley (Chapter 3) examines an important issue of metaphysical understandings of material culture in archaeological research during her doctoral research with the Mutawiatji community in New South Wales and is challenged by Indigenous beliefs of the 'power' and 'dangers' embodied in material objects as well as 'avoidance' of particular places that have spiritual meaning. Alejandro Haber, Wilhelm Londono, Ernestina Mamani and Laura Roda (Chapter 4) discuss the contrast between archaeological and local versions of the past in their paper on archaeology and 'locality' which collates conversations, memories and ideas of local history between archaeologists and people in Antofalla and Antofagasta de la Sierra. Both papers begin to expand on the complexities of interpreting the 'non-material' aspects of the past when working with Indigenous communities and thus highlight examples of the intersections of Western and Indigenous epistemologies that are useful for all archaeologists. In Chapter 5, Gabriel De La Luz-Rodriguez examines the historical context of Central America, the term 'Taino' and its use in the representation of the Indigenous Puerto Rican community. This chapter raised significant issues about identity politics, the construction and mis-representation of identity and the 'power' of the colonial project.
Chapters 6–8 identify several issues in the process, practice, implementation and management of cultural heritage in Australia and Aotearoa/New Zealand. Chapter 6 by Anne Ross demonstrates the problems associated with the implementation of heritage management practice (as determined between archaeologists and Indigenous community members 'on the ground') in comparison to the legislative and bureaucratic processes associated with it. What is identified by Ross is that the 'resurrection' of cultural knowledge by the Gummingurru Aboriginal Community (GAC) is a primary management concern for the site. In Chapter 7, Caroline Phillips is optimistic of a 'decolonised' form of archaeological practice and demonstrates how heritage legislation and practice has improved over 15 years of pressure from Maori as well as through the development of a holistic and interdisciplinary approach to archaeology. The crisis surrounding statutory protection in New Zealand (similar to that of Australia) is exposed by Harry Allen in Chapter 8, who presents a comprehensive strategy to address some of the issues.
The following three chapters are case studies of Indigenous peoples/archaeologists views on archaeology and CHM. Lawrence A. Foana'ota (Chapter 9) provides a positive overview of the progress of archaeology in the Solomon Islands which locates the Indigenous community at the centre of the agenda. Further, Margaret Rika-Heke (Chapter 10) asks a critical question that relates to the issue of Indigenous 'participation' in archaeology: 'Why Do Maori Not Engage with Archaeology?' What Rika-Heke has observed is that although archaeological research and CHM projects continue to grow, the numbers of Maori peoples 'engaging' in the discipline with formal academic qualifications has not significantly changed. Maui Solomon and Susan Forbes (Chapter 11) present a Moriori Project which documents material evidence with cultural knowledge of place and associated values in a 'cultural database'. This landscape approach is driven by Indigenous values and beliefs and thus privileges Indigenous ways of interpreting cultural heritage.
In the concluding chapter, George Nicholas contextualises the emergence of 'Indigenous archaeologies' and the 'dangers' involved in a 'separate' and 'distinct' form of the discipline that could become 'marginalised' and positioned on the 'periphery' of mainstream archaeology (p.223). What Nicholas strongly argues is that Indigenous approaches should also be integrated within mainstream practices so that the places archaeologists and Indigenous peoples aim to protect and manage become part of the new phase of intellectual growth in the discipline. This chapter eloquently compliments the papers in this volume and will undoubtedly project a new dialogue about Indigenous archaeologies and the challenges that lie ahead.
The effects of colonialism and previous 'research'-driven agendas by academics are becoming increasingly acknowledged by archaeologists and cultural heritage practitioners which, in itself, has shifted the practice of archaeology in Indigenous communities. What is evident throughout this book, regardless of legislative frameworks and bureaucracy, is how archaeologists and Indigenous communities are working together to forge new and/or expand upon long-term relationships that will benefit Indigenous peoples. Perhaps the most exciting component of this volume collectively, is how Indigenous archaeologists (some experienced and others recent graduates) are working together with their own (and other) communities with the support and advice from non-Indigenous colleagues in transforming the practice of Indigenous archaeologies and CHM at yet another level. This is a highly significant methodological and ideological shift in the approach that some archaeologists and cultural heritage practitioners in this book are increasingly adopting and is an outstanding contribution to the discipline that I am excited about being a part of over the next decade!
References
Nicholas, G. 2010 Being and becoming Indigenous Archaeologists. Walnut Creek, CA: Left Coast Press.
Nicholas, G. and T. Andrews (eds) 1997 At a Crossroads: Archaeology and First Peoples in Canada. Burnaby: Archaeology Press.
Smith, C. and M. Wobst (eds) 2005 Indigenous Archaeologies: Decolonizing Theory and Practice. London: Routledge.
Swidler, N. 1997 Native Americans and Archaeologists: Stepping Stones to Common Ground. Walnut Creek, CA: AltaMira Press.
Watkins, J. 2000 Indigenous Archaeology: American Indian Values and Scientific Practise. Walnut Creek, CA: AltaMira Press.
Christopher Wilson
Review of 'Bridging The Divide: Indigenous Communities and Archaeology into the 21st Century' edited by Caroline Phillips and Harry Allen
June 2011
72
61-62
Book Reviews
You must be a member to download the attachment (
Login
/
Sign up
)