Review of 'Archaeology and the Media' edited by Timothy Clack and Marcus Brittain
01st June 2009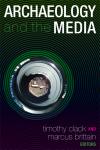 Archaeology and the Media edited by Timothy Clack and Marcus Brittain. Left Coast Press, Walnut Creek, CA, 2007, 304 pp., ISBN 9781598742343.
Hilary du Cros
Institute for Tourism Studies, Colina de Mong-Há, Macao, China
Recently there seems to be a growth of interest in popular culture and archaeology. Almost simultaneously, two books have been published on archaeology and the media with a heavy emphasis on the topic of film production. Archaeology and the Media is the result of a conference in the United Kingdom and is complemented by another Left Coast Press book Box Office Archaeology: Refining Hollywood's Portrayals of the Past edited by Schablitsky (2007) on Hollywood's role in building the popular image of archaeology internationally. Whether this book is also the result of a conference is difficult to say; however, it also seems to have a heavy preponderance of contributors and material from one country too given its title.
Clack and Brittain's book, through no fault of its own, is very Brit-centric. Only three chapters try to deal with media/archaeology relationships outside of the UK in any detail. However, the title and marketing promise of the book is misleading in that it would seem to encourage the view that it has a worldwide perspective on the topic. This is an increasingly common problem with publishers, who push the authors to agree to more general sounding titles. However, with little case material and reference to cultural attitudes to the media of countries outside of Europe, it does seem dishonest. On the plus side, this book is rarely dull. The only time the attention is tempted to wander is when yet another regurgitation of the history of archaeology in British TV is presented. No doubt some closer editing could have circumvented this small problem of duplication in four of the chapters.
The key themes of the book are the impact of the media on archaeology and the reverse, education versus entertainment, and an examination of how new media are offering opportunities to reach new audiences and enhance archaeological interpretation. It is no accident then that well-known archaeological authority on the last theme, Michael Shanks, is left to close the book. He does this well and with more clarity than the editors introduce it. It may be possible that the editors are trying to do too much in their introduction in setting the scene for these important themes rather than letting the chapters speak a little more for themselves.
After the introduction, the book is a relatively quick read with 13 short chapters and no epilogue. The first two chapters have the most entertaining and accessible style, because they have the easiest task of them all – presenting archaeologists' experiences of the media (albeit mostly in a British context). Popular culture and archaeology authority, Cornelius Holtorf, is in his element outlining how dress makes the archaeologist in his chapter on how archaeologists clothe themselves and the media's interpretations of the various styles. Although it is not all his own work (there is a reference to a photograph gallery on the internet established by David Webb), it does show how the media and audiences can interpret simple things as field clothes in these situations. However, most of this is about male archaeologists and who is most like Indiana Jones to the media. Maybe, an analysis of why female archaeologists do not dress like Lara Croft will have to wait for another book!
Peter Fowler's chapter on his personal experiences of the media through mostly radio follows on well from Holtorf's and includes some provocative views on education versus entertainment. He is positive about television's role in reaching many different audiences, despite some recent horrors such as Hidden Treasure, which is a show about owners of metal detectors and their finds. However, the question is left hanging with regard to how to compete with such programmes and how to draw people away from practices, such as metal detecting, which have a destructive impact on sites.
The role of some of the more extreme emanations of popular culture on archaeology is picked up in the next chapter by Kulik with some mention finally of Von Däniken. Not that anyone was waiting for it with bated breath, but it would seem really odd if the old adversaries of archaeology did not appear. Every country has one or more after all! The interview in Chapter 5 with Brian Fagan and Francis Pryor lifts the lid off the Brit-centricity to some extent as they explore their experiences and opinions of the media. The different format also brings a more informal tone to the work and some good advice to prospective media interviewees – use common sense and do not get too carried away!
Finn's chapter is the only attempt by the book to link archaeology to another discipline. A discussion follows of how archaeology and the art of photography collaborated for an exhibition on the bogland landscape associated with Lindow Man in Cheshire. The figures with it could have been more informative or indicative of the exhibition. It is hard to judge from this chapter how successful this approach would be in another context. Strangely, this is followed by a very quantitative chapter by Benz and Liedmeier on archaeology and the German press.
Northumbrian archaeologist Jon Price is in good form talking about his collaboration with Belgian archaeologists and the television production company Maya Vision on portraying the excavation of a Great War (World War I) site on the Somme. He notes that ultimately there were some differences in the interpretation of events as they occurred on the excavation, as he says, 'the single biggest problem for the media was that we kept finding bodies … the result was that we generated our own story which we took elsewhere' (p.181). Presumably, despite the fact that this was carried out on an old battlefield, the producers wanted to base it more round artefacts (many of which are similar to those in the audience's private collections and seem less tragic) rather than the grimmer realities of war.
'Screening Biases' is a cryptically named chapter that has a general waffle about many issues related to archaeology and media trying to discern how differing agendas can meet. In that respect, it does take the issue from Price's chapter a little further. Taylor is correct, however, when he states, 'that a television audience, like a student audience, would take what it wanted and understand what it was prepared to grasp' (p.191). He advocates that both archaeologists and the media should try and tackle the darker side to the past anyway and leave it to the audience to decide. As for Stern's chapter on 'Wonderworlds', it is also provoking in another way with some discussion of German representations of prehistoric sex in cinematography. This is also an excuse for some rather bizarre figures (10.1 is a still photo from a 1927 silent film where cavewomen flounce around without nipples).
After this, 'Faking it' seems to be an appropriate title for the chapter by Piccini, who directly addresses a key theme in visual archaeology regarding the representation of truth. It also is the only chapter to look squarely at archaeological documentaries. Realist discourse on documentary making is nothing new (Hughes 1991; Nichols 1991), but very few times does it deal directly with archaeology – a subject where the temptation is to romanticise issues (du Cros 2002).
Uncomfortable truths are dealt with well by Renshaw in her chapter on the representations of mass graves from the Spanish Civil War. Once again it is refreshing to have a case study from outside the UK. Different cultures have different attitudes to death and representation in the media. For instance, the Sichuan earthquake tragedy is haunting the media in Macao and Hong Kong (as this piece is being written), as Chinese journalists and their audience seems to have an almost unlimited tolerance for corpse shots. At the moment, one of the main streets of Macao has a building covered in such posters of the dead where donations are also being collected for earthquake aid for the living. The Spanish experience of the mass grave excavation is more in line with this kind of iconography than that described in Price's chapter.
Finally, the digital age is explored in some detail in Gardner's chapter on the ancient world in video game representation. Fighting and farming is the subject of increasingly complex computer role playing games that could be more absorbing than Second Life given a bit more imagination and archaeological/anthropological input. Gardner encourages other archaeologists to engage more with digital media in order to reach a greater audience, all of which echoes what Michael Astin said to Fowler about television; 'there needs to be a way to draw a larger audience into the conversation' (p.94).
Overall, this book is a useful contribution to the debates on the key issues it tackles and it does raise many interesting questions about how archaeology and the media engage, which should be taken further in research and practice.
References
du Cros, H. 2002 Much More than Stones and Bones: Australian Archaeology in the Late Twentieth Century. Melbourne: MelbourneUniversity Press.
Hughes, P. 1991 True grit: Documentary – fact or fiction? In J. Yule (ed.), The Big Picture: Documentary Film-Making in Australia, pp.103–106. Melbourne: National Centre for Australian Studies, MonashUniversity.
Nichols, B. 1991 Representing Reality: Issues and Concepts in Documentary. Indiana: IndianaUniversity Press.
Schablitsky, J.M. (ed.) 2007 Box Office Archaeology: Refining Hollywood's Portrayals of the Past. Walnut Creek: Left Coast Press.
Hilary du Cros
Review of 'Archaeology and the Media' edited by Timothy Clack and Marcus Brittain
June 2009
68
62-63
Book Reviews
You must be a member to download the attachment (
Login
/
Sign up
)