Review of 'Altered States: Material Cultural Transformations in the Arafura Region' edited by Clayton Fredericksen and Ian Walters
01st June 2002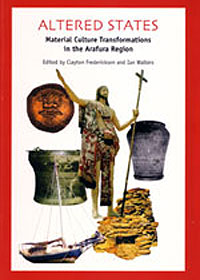 Altered States: Material Cultural Transformations in the Arafura Region edited by Clayton Fredericksen and Ian Walters. NTU Press in association with the Centre for Southeast Asian Studies, Darwin, 2001, xiv+160 pp., ISBN 1 876 24855 6 (pbk).
Chris Chippindale
Altered states is a small and genial book, 174 pages of rather large type, edited from the Northern Territory University in Darwin, and published by its own university press; altogether, seven of its nine contributors are at NTU. After a good start when the University was founded, its commitment to archaeology and anthropology has not been carried through. At the same time, the Territory Museum's concern for the disciplines has weakened, and the ANU has closed its North Australia Research Unit. So Darwin has not grown as a regional research centre, which it could and should have done, given the importance of archaeology and anthropology in the Territory and its being well placed for work in the 'Arafura Region', northern Australia and the island lands to the north across the Arafura Sea. In these fields, Darwin makes a better base than working always from the remote southern cities. The six varied papers in the book show some of what has been done, and underline how much more could be done.
Like many a good edited book, this is a diverse set of studies rather than one tied tightly to a single theme. All are about material culture and its transformations, but treat different aspects rightly, in suitably different ways. The common thread then, is the renewed current interest in material culture, in the 'cultural life of objects' as an emphasis offering useful insights in contemporary affairs and recent history, alongside archaeology's traditional and necessary dependence on the material evidence.
Two papers address contemporary affairs. Forshee and Healey look at monumental statues erected in Indonesia in the Sukarno and Suharto eras. Dwyer reports the changing role of indigenous sailors and their perahu at Ashmore Reef, the group of uninhabited islands between the Kimberley and Timor, Australian territory although closer to Timor. Since 1974, fishers' traditional rights to Ashmore have been restricted and since 1995 refugees have been landing there, so the reef has become a stage in the current theatre of Australia versus would­ be refugees. Then Puig and Walters describe and analyse two fine Asian bronze drums, bought in Thailand for the Northern Territory museum in 1982. Dismally, and as is usual with antiquities which 'surface' without known provenance or history, the research effort can only reconstruct with existing knowledge what might have been the lost archaeological context-rather than learning new knowledge from an actual context reliably reported.
Three papers depend more on archaeological fieldwork. Bjornskov makes a pioneering study of the large stone ovens built in and by Chinese communities across the northern part of the Territory between the 1870s and 1920s, the period of its mining boom and the importing of Chinese labourers. About 50 are known nationally, nearly half in the Territory in the settlements on or near the Stuart Highway between Katherine and the Adelaide River and mostly in Jawoyn country; some of these may have perished between earlier reports of them and the field studies done in 1999.
Bulbeck and Rowley, in the paper most showing traditional archaeological strengths, relate finds of Macassan pottery in Aqstralia to those in Macassar itself and neighbouring parts of Sulawesi. They notice the discrepancy between the 'home' and 'away' patterns, and suggest from the archaeology the 17th century as the earliest inception date for Macassans in northern Australia, a mild discrepancy with the historical record which implies a later date.
Finally, Fredericksen examines transformations in the life­ history of a single 'shako plate', a metal badge with heraldic designs worn on the front of 18th-century British soldiers' uniform caps. This example was excavated at Fort Dundas, the short-lived British fort on Melville Island 1824-1829, by Crosby who reported that its upper extension, probably in the form of a crown, had been broken off. She saw its detachment as marking a ritual defacement, preventing subsequent misuse. As Fredericksen sees it, 'this single, politically-charged act of disfigurement witnessed the symbolic alteration of the shako plate from an object representing community, loyalty and heritage to an object devoid of meaning or value'. So this little metal thing may have 'come to represent one dissenting soldier's opinion of the meaninglessness of garrison duty in the faltering settlement'. One does hope the crown did not disappear through some mundane and chance break of no symbolic intent and is therefore devoid of archaeological meaning or value!
Chris Chippindale
Review of 'Altered States: Material Cultural Transformations in the Arafura Region' edited by Clayton Fredericksen and Ian Walters
June 2002
54
66-67
Book Reviews
You must be a member to download the attachment (
Login
/
Sign up
)