Review of 'Altered Ecologies: Fire, Climate and Human Influence' and 'The Biggest Estate on Earth'
09th May 2013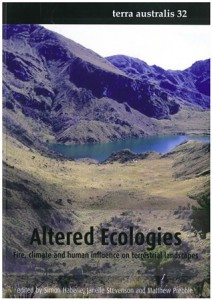 Altered Ecologies: Fire, Climate and Human Influence on Terrestrial Landscapes by Simon Haberle, Janelle Stevenson and Matthew Prebble (eds). Terra Australis 32, ANU E Press, Canberra, 2010. ISBN: 9781921666803 (pbk) 9781921666810 (ebook).
The Biggest Estate on Earth: How Aborigines Made Australia by Bill Gammage. Allen and Unwin, Melbourne, 2011. ISBN 9781742377483 (hbk) 384 pp.
Reviewed by Bruno David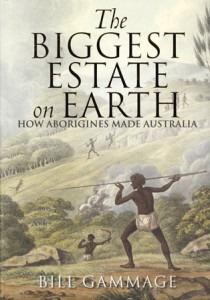 School of Geography and Environmental Science, Monash University, Clayton Vic. 3800, Australia
The Australian archaeological and palaeobiogeographic communities have long been joined at the hip, as well signalled by the close relationship of what used to be called the Department of Prehistory and the Department of Biogeography and Geomorphology—now combined and renamed Archaeology and Natural History—at the ANU, which was for decades Australia's foremost institution of archaeological research. Two recent books, Haberle, Stevenson and Prebble's edited volume Altered Ecologies in honour of Geoff Hope, and Bill Gammage's The Biggest Estate on Earth, testify to this rich pairing of people and environment into a more united notion of landscape or 'country'.
What principally emerges is a discussion not so much of the environment, or of social history, as of engagements and human emplacement. While both books are in many ways concerned with this broad theme—the nature and history of relationships between people and the world in which they dwell—Altered Ecologies and The Biggest Estate on Earth are also very much a contrast of style and content.
Altered Ecologies tackles a broad range of topics divided into four core themes: 'Ecosystem responses to long- and short-term climate change'; 'Human colonisation and ecological impacts'; 'Fire and its role in transforming our environment'; and 'Methodological advances and applications in environmental change and research'. With a total of 59 authors and 27 chapters, covering topics ranging from archaeology to megafaunal extinctions, marsupial translocation, vegetation history, flying fox habitat change, altitudinal limits on crop species, glacier histories, landscape conservation and restoration, and radiocarbon dating (mostly, but not exclusively, concerned with Australia and Melanesia), Altered Ecologies is very much a festschrift, a celebration of writing befitting the broad scope of Geoff Hope's intellectual interests and influence.
Arguably of greatest interest to archaeologists will be the section on 'Human colonisation and ecological impacts', which contains chapters by Richard Corlett on megafaunal extinctions in the Indo-Pacific region; Tom Heinsohn on the anthropogenic introduction of species across regions; Sandra Bowdler on late Pleistocene occupation along the Australian coastline; Ken Aplin, Fred Ford and Peter Hiscock on early Holocene human occupation of the Australian Alps; Matthew Prebble, Jean Kennedy and Wendy Southern on Holocene landscape change in Manus Province; Matthew Spriggs on environmental impacts of human arrivals in the Pacific; Patricia Fall on plant introductions in Tonga; William Boyd and Nigel Chang on socio-environmental change in Thailand; and also Susan Frawley and Sue O'Connor on the identification of wood charcoal from Carpenter's Gap. Many other chapters also have archaeological themes which are likely to be of regional or broader archaeological interest; however, these are generally specialised regional studies.
In contrast, Bill Gammage's book, The Biggest Estate on Earth, is highly focused on a single general hypothesis: that the Australian environment at the time of early European contact was purposefully engineered by Aboriginal manipulation of the vegetation through skilled burning and co-ordinated strategies of settlement and use. An impressive array of quotations by early European explorers make up a significant part of the book, and Gammage is successful in evoking Aboriginal agency in the active creation of Country. What is new here is not so much the notion that Aboriginal people knowingly manipulated their landscapes, so much so that pretty much everywhere was more akin to a maintained 'estate' than to 'wilderness', as the richness of quotations by which the point is made, and the degree to which relict landscape features—the species, size and shape of individual long-lived trees, for example—can be read today (or in historical photographs and paintings) with this history in mind. Less convincing and more problematic, however, is the notion that virtually every 'good', useful or useable outcome was intentional. There are also major problems with characterisations of Country (which significantly downplay the nature and significance of ancestral connections) and 'Dreaming', as there are also with the way that social and landscape relations are considered, as evident, for instance, in a tendency to reduce all forms of kinship and landscape recognition to 'totems' at the expense of 'skins' and other myriad forms of social constructs and relationships. 'All these totems must survive, and be in balance' (p.130) is the general message. What we are left with is a homogenised 'universal theology' on one continental 'estate', where land ownership and management are collapsed into what may be a range of Aboriginal (and Torres Strait Islander) cultures, but which are nevertheless presented as a singular, essentially unchanging culture in balance with their intentionally planned surroundings. There is little (or no) sense here of a normal human world of success and failure, of unpredicted outcomes, or of impacts on the environment beyond successful planning. This is unfortunate because Gammage shows us well how deep readings of local environmental histories can be made from present landscape features, and his mustering of the historical literature is extensive.
Altered Ecologies and The Biggest Estate on Earth are likely to appeal to largely different readerships, the first more to academics, the latter more to the broader public. Both books are very well presented in styles that respectively speak to those audiences. However, and despite the types of significant flaws briefly listed above, Gammage's book should especially be read by environmental scientists who are interested in the role of people in the creation of Australia's historical and modern landscapes, a role that cannot be airbrushed away when considering Australia's landscape history of the past 50,000 years or so. As for Altered Ecologies, we can only be forever grateful that this wonderful Terra Australis series can be freely downloaded from the web whenever it is needed or bought as a high quality paperback.
Bruno David
Review of Altered Ecologies: Fire. Climate and Human Influence and The Biggest Estate on Earth: How Aborigines made Australia
June 2013
76
91-92
Book Reviews
You must be a member to download the attachment (
Login
/
Sign up
)