Review of 'After Modernity: Archaeological Approaches to the Contemporary Past' by Rodney Harrison and John Schofield
01st June 2012
Review by Alice Gorman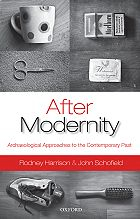 At the 2007 New Ground Conference in Sydney, Annie Bickford posed an interesting question at the end of a session on contemporary archaeology. After hearing papers on post-war urban architecture, depression work camps, modern graffiti, abandoned offices and orbital space stations, she asked "In what way is this different to historical archaeology?" This is a question that After Modernity goes some way towards answering – but the success of the answer is something you will have to judge for yourself.
For the last decade or so there has been a growth of interest in the archaeology of the contemporary or recent past, and it now seems to be a sufficiently distinct field for Harrison and Schofield to have written this introductory text, aimed at archaeologists and also interested lay readers. Despite the title, which might suggest that the contents are on the impenetrable post-modern side, the book is very clearly written and easy to read. The first part looks at the history, theory and methods of contemporary archaeology, while the second takes the reader through a number of case studies based around artefacts, sites and landscapes. While the details given for some of these examples are minimal, everything is carefully and thoroughly referenced, providing a starting point for deeper research.
Harrison and Schofield define 'contemporary archaeology' as the archaeology of late modern industrial societies, i.e. the period from 1950 until the present. It is, effectively, an archaeology of 'now' or of 'us'. This period is argued to be qualitatively different to the earlier twentieth century because of the growth of new communications and electronic media, globalisation, mass migrations and transnationalism, among many other factors. They note that the study of the recent past is common in disciplines such as history, anthropology, sociology etc, but archaeology has something distinctive to offer: the emphasis on material culture, deep time perspectives and the recognition of change. Like conventional historical archaeology, contemporary archaeology can investigate those people and groups left out of authorised accounts or official documents, and places that are interstitial or overlooked.
So why is contemporary archaeology not the same as historical archaeology? It could be argued that some differences lie in the methods used and the nature of the contemporary record. Let's look at the methods first. Survey, excavation, artefact analysis, documentary research, oral history, analysis of aerial and satellite imagery, and GIS; all of these are also standard in contemporary archaeology. However, the latter makes more use of photography and film, and interactions with artists to record and interpret. There is an emphasis on the experience of being in a place and the ways that this can be conveyed. An example, following Augé (1995), is the 'non-place' of an airport, designed to be generic and disconnected from history and identity. An artistic work may convey the essence of this kind of non-place, which is so integral a part of its character, far better than a site plan or a still photograph. In this we find one of the defining principles of contemporary archaeology: its very closeness to us means that we need to "make the familiar past unfamiliar" (p.1; see also Graves-Brown 2000), sometimes even just to become aware of it and foreground some aspect of it for attention, and this is something at which artists excel.
There are ways in which the material record of the recent past differs from that of the earlier twentieth century. Waste management and processes of decay and discard have, in some cases, been radically transformed. As Harrison and Schofield point out, few modern buildings survive long enough to decay; they are more likely to be renovated or demolished. Artefacts are mass-produced and distributed globally on a scale never before possible, bringing with them certain philosophies and aesthetics; IKEA is the perfect example of this. While this contributes to a homogenisation of culture, the archaeological investigation of seemingly identical artefacts reveals a surprising range of variation that can reveal information about the local environment.
The record of the recent past is both an embarrassing abundance of riches and full of lacunae. Cold War and military secrecy means documents may be unavailable, and in the fast-changing world of national security, sites, landscapes and technologies can be hard to recognise and describe. With the growth of electronic media, there may be no documents at all to illuminate function and social context. The rapid rate of technological change means objects and technologies can flicker into existence and be superseded and forgotten within a decade. On the other hand, not enough time has passed for organic and perishable materials to disappear: we actually have all of the fragile materials and ephemera, the entire contents of rooms and buildings, and memories and tales of the people who interact with them. Consequently, different research questions and methods are necessary. In summarising what makes contemporary archaeology distinct, Harrison and Schofield argue that:
… the role of the archaeology of the contemporary past is to start from the present and work backwards in time, being sensitive to the influence of the materiality of the past which constantly intervenes in the present. This approach runs counter to the modernist roots of professional archaeology, which takes for its frame an evolutionary perspective … that necessitates the search for origins in the deep past, and the analysis of material, social and economic change by tracking their progress forwards through time (p.283).
Despite this, I'm in two minds about what has been learnt from the numerous case studies discussed, such as the abandoned Soviet mining town Piramida in the Arctic, and the "excavation" of a mantelpiece. What do we know about ourselves that we didn't know before? Are these results purely local, unable to be applied to any other time or place? Perhaps the most persuasive examples of contemporary archaeology are those with measurable impacts on the lives of the people they engage with. Schofield's work on the abandoned red light street of Valletta in Malta played a part in bringing life back to the street, along with a social place for the bar and street workers who were officially denied existence. Several archaeological studies of homelessness (e.g. Zimmerman and Welch 2006) have had policy outcomes. Forensic, disaster and human rights archaeology can bear witness and make visible that which was suppressed, performing a therapeutic role, which emerges as strong theme in the book. Perhaps the book, and the studies it highlights, should be seen more as an indication of what could be done, an invitation to take up and pursue some of the themes and questions raised.
As a practitioner of contemporary archaeology myself, I suspect I will find myself constantly referring to After Modernity, for the clarity with which it expresses the theoretical underpinnings of the field and the complex relations to other disciplines. (It doesn't hurt that Harrison and Schofield look on my own work favourably!). There is much to ponder, and much to inspire in this book, which provides a thoughtful and accessible introduction to the field. While its clear prose recommends it as a textbook, After Modernity is also enjoyable to read. I encourage you to follow the authors' exhortation: "Stop reading this! … put the book down and look around you … think about what you see" (p.153). As they point out, we are all experts in the archaeology of us.
References
Augé, M. 1995 Non-Places: Introduction to an Anthropology of Supermodernity. London: Verso.
Graves-Brown, P. 2000 Introduction. In P. Graves-Brown (ed.), Matter, Materiality and Modern Culture, pp.1-9. London: Routledge.
Zimmerman, L. and J. Welch 2006 Toward an archaeology of homelessness. Anthropology News 47(2):54-55.
If you are interested in purchasing this book, please click here to be taken to the publisher's website.
Alice Gorman
Review of 'After Modernity: Archaeological Approaches to the Contemporary Past' by Rodney Harrison and John Schofield
June 2012
74
122-123
Book Reviews
You must be a member to download the attachment (
Login
/
Sign up
)