Review of A Millennium of Culture Contact by Alistair Paterson
09th May 2013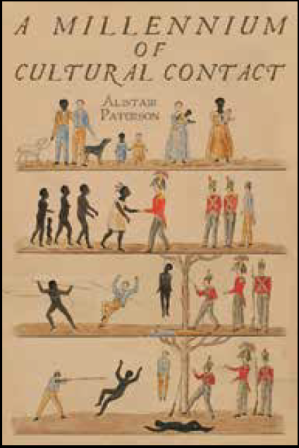 A Millennium of Culture Contact by Alistair Paterson. Left Coast Press, Walnut Creek, California, 2011, 328 pp. ISBN 9781598744927 (hbk), 9781598744934 (pbk), 9781611325560 (ebook).
Reviewed by Angela Middleton
Department of Anthropology and Archaeology, University of Otago, Dunedin, New Zealand
Paterson's book is an ambitious work, covering a complex and diverse field: that of culture contact between Europeans and indigenous groups 'living outside Europe' (p.9). The author takes as his starting point 'the Norse settlement of the Americas and Greenland, around 1000 AD.' The choice of 'Culture Contact' for the title is interesting, given the discussion in recent times over the use of a diverse range of terms, such as 'cultural engagement' or 'entanglement'; perhaps simplest is best in this broad context. The cover illustration—Governor Davey's 1816 Proclamation to the Aborigines—provides an intriguing, and chilling, look at the encounter in an Australian context and makes the reader want to know more.
Chapter One sets the scene, discussing the framework of the millennium covered in the book. Paterson posits the sun rising over the world of '1 January AD 1000' as it travels from east to west and the different world views its populations may have held. This was a world still to be affected by the events of 1492, when North and South America would become the 'New World'. Paterson's summary of human perceptions of the world at this beginning point are useful and thought provoking: how successfully can we ever put ourselves into the past in this way? This trope is helpful.
Chapter Two assesses 'What is Contact?' and discusses the literature of the field—an essential starting point with this addition. Key twentieth century concepts such as acculturation theory are addressed and summarised in a table, a useful tool for students (and others). Table 2.2, 'Variables of culture contact,' is somewhat problematic—it covers a range of different concepts that, in the broader sense, may or may not be associated with 'contact', and it seems a rather nebulous inclusion. More helpful though is Figure 2.1, a timeline of key events that provides an overview of Paterson's framework. I have to say I was rather puzzled by the 'Dutch arrive New Zealand'—given that there was no Dutch footfall made on land—while Paterson then makes no mention of the far more consequential Cook landing in 1769 (and later). I would have liked to see more references to the literature of 'culture contact' in this chapter. While important players such as Deagan, Lightfoot and Silliman are named, a more complete inclusion of direct references would be useful for those wanting to explore further, or even a 'useful sources' section, such as is provided for all the subsequent chapters. I will come back to this lack of clear references.
The following chapters provide case studies from around the world, starting with the Northwest Atlantic and shifting through time and geography. Much of this makes a valuable contribution to the literature. For example, the short chapter on Sub-Saharan Africa brings together a range of sources summarising the millennium of history in this part of the continent; the 'useful sources' section here is indeed useful, with a large number of further works to consult. Equally useful are the subsequent chapters on different geographical locations, including the 'Spanish in the Americas' and 'North America.' But there again, more direct references would be appreciated, for example, in discussing particular topics, such as colonoware. Paterson's familiarity with the Australian context is demonstrated in Chapter Nine, with sections on different geographical locations, as well as thematic discussions.
Of course I looked with interest for the section on New Zealand. This appears in 'East Asia and Oceania', a chapter that includes not only my homeland but also Siberia and the area surrounding the Indian Ocean and the China Sea. Perhaps Paterson's energy and interest was lagging by this point. A map of Oceania gives the Pacific context, but rather puzzlingly, New Zealand is truncated somewhere north of the middle of the North Island. Really? We are given less than a quarter of the country. Both the far south, including Foveaux Strait and Codfish Island/Whenua Hou (as its bilingual name denotes) and the far north, were important locales for earliest culture contact in this country. Neither location is mentioned in the text, although this more recent work is readily accessible. Instead we have an overused refrain from work undertaken in the early 1990s. This is disappointing. Once again, in this short section direct references would be useful, such as the source for the discussion on 'Pakeha'.
From my intimate knowledge of this local field, Paterson's 'useful sources' section is rather lacking. This inside knowledge also provides me with a more critical eye that I haven't brought to material in other chapters. But it does suggest that, while this book covers an expansive geographical and chronological field, some of the depth of detail may be lacking. Perhaps this is understandable given the task of synthesising such a wealth of information.
A Millennium of Culture Contact is written in language that is very accessible for students and the general reader; it will be a useful teaching tool. Paterson's overall coverage of this field makes a valuable addition to the literature on this subject.
Angela Middleton
Review of A Millennium of Culture Contact by Alistair Paterson
June 2013
76
92-93
Book Reviews
You must be a member to download the attachment (
Login
/
Sign up
)