Review of 'A Critical Exploration of Frameworks for Assessing Significance of New Zealand's Historic Heritage' by Sara Donaghey
01st December 2009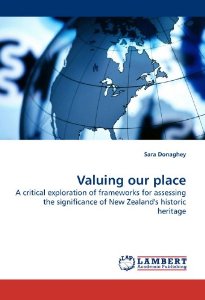 A Critical Exploration of Frameworks for Assessing Significance of New Zealand's Historic Heritage by Sara Donaghey. British Archaeological Reports International Series S1836, Archaeopress, Oxford, 2008, viii+196 pp., ISBN 9781407303208.
Reviewed by Jane Lennon
Cultural Heritage Centre for Asia and the Pacific, Deakin University, 221 Burwood Highway, Burwood Vic. 3125, Australia
This book opens with a quotation from a Maori elder: 'When I look at these landscapes I see my ancestors walking back to me' (p.1). The elder would be deeply disappointed by the findings of this book regarding the inability of his fellow citizens to agree on a common framework, terminology and concepts for identifying and assessing the historic heritage of New Zealand.
It is even more telling that this publication, based on a thesis for a PhD in New Zealand in 2004, had to be published as part of a series of British Archaeological Reports. Will the empire strike back in assisting post-colonial heritage assessment frameworks? Or does one have to be published in England for the local press to engage in a meaningful discussion on the nature of New Zealand's historic heritage?
The 196 page publication has eight chapters and the constant iteration in style makes for cumbersome reading even if this means continual reinforcement of the findings of each section. Chapters 2 and 3 present a well-researched summary of the theories of heritage significance and assessment and a review of international policy based on those from Australia, Canada, England and the USA. Chapter 4 reviews New Zealand policy and practice, while Chapters 5 and 6 detail the data surveys and questionnaires used by the author in her study. Chapter 7 analyses the wider findings while the final chapter concludes with the policy implications of the research on the assumption that 'paying regard to the value of historic heritage is a duty of civilised society' (p.149).
The exploration of theoretical frameworks concludes with the primacy of social value 'articulated as expressions of cultural identity, community sentiment and public values' (p.20). Donaghey notes that 'the challenge lies in satisfactorily acknowledging the collective memories of all cultural groups and developing an appropriate disciplinary consciousness' (p.20).
The chapter on international evidence presents snapshots of the various systems as at 2004. For Australia (pp.24–29) this is when the new national regime commenced with its powerful ideal of an integrated framework of heritage values, but some scepticism about the practicality of this approach was raised. The new National Heritage Places Strategy was to tackle flaws in the old system: duplication in legislative process at all levels of governance; lack of an overarching national heritage policy; confusion in the community about the various systems and lists; and lack of effective protection for nationally important heritage places.
Sadly for this book, and its Australian readers, there is a five year time lag from research to publication. During this time the much derided Productivity Commission report, Conservation of Historic Heritage Places, came to dominate which was couched in economic rationalist terms of market failure. Despite the Productivity Commission conducting local government surveys similar to those conducted by Donaghey in New Zealand and over 400 submissions requesting various forms of technical and financial assistance for conservation, it progressed the wider agenda very little. Currently there is the Independent Review of the Environment Protection and Biodiversity Conservation Act 1999 (EPBC Act).
Donaghey concludes her international review with a table of the comparative features for an effective heritage evaluation system (Table 3.6.1) and states that it is 'undisputed that the Burra Charter has been a powerful instrument in promoting the efficacy of Australia's heritage policy' (p.38). However, she notes that as governance increases in complexity, effective heritage strategies depend 'on the energetic vision of national lead bodies' (p.38), and an effective assessment process requires recognition of locally significant heritage, consistency, government commitment and provision of resources, competent local authority mechanisms and community inclusiveness. These issues have been found deficient in the Australian system now by submitters to the above-mentioned review of the EPBC Act.
Her review of New Zealand policy and practice (pp.42–61) finds it wanting in comparison to the international systems examined, considering the dynamic nature of heritage values, the lack of a landscape approach, the anachronistic approach to archaeological site protection and in having differing concepts for Maori and Pakeha. To compound this confusion devolution of heritage management to local authorities without adequate resourcing highlights the lack of clear national policy. Her surveys back up this initial review. The survey of non-professional opinion reflects the strength of community feeling towards historic heritage and the diverse ways in which heritage is revered, while the survey of professional opinion highlighted the need for national standards and a common assessment process to ensure consistency of criteria and methodology. Both groups supported the need for greater engagement with the community (p.112).
The analysis of wider findings (pp.113–139) results in a blueprint for corrective action for national policy, resourcing, legislation, registration and listing, regional and local authority procedures, Maori heritage, communities, historic areas and landscapes, and archaeological sites. This is obviously required given that a table ranking New Zealand frameworks against internationally effective system characteristics, like guiding principles or clear assessment guidelines, scores only 5 out of 19 characteristics (Table 7.5.1, p.136).
Donaghey's concluding chapter argues that social value be accorded greater recognition in policy and practice and that three issues predominate: significance of local heritage; consistency; and resourcing (p.146). These ring true for Australia as well. She hoped that a nationally consistent, clear and easy to use assessment system would be in place by 2010, but experts were not optimistic. She notes a political unwillingness to invest in the heritage process. It is the same in Australia, but what action are individual practitioners taking to ensure a relevant deal for heritage?
While this book may be a benchmark for New Zealand in 2004, it is out of date for Australian readers, although many of the issues are relevant as a wake up call. Policy is in a vacuum and it is up to professional bodies to raise and debate these issues before any comment is regarded by bureaucrats downsizing and simplifying processes as irrelevant.
Jane Lennon
Review of 'A Critical Exploration of Frameworks for Assessing Significance of New Zealand's Historic Heritage' by Sara Donaghey
December 2009
69
81-82
Book Reviews
You must be a member to download the attachment (
Login
/
Sign up
)