Indigenous Cultural Heritage in the Boyne Valley, Central Queensland
08th December 2001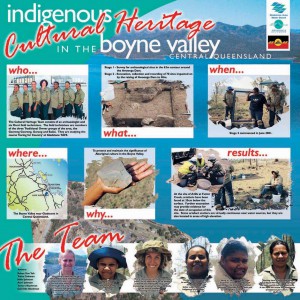 Until the raising of the Awoonga Dam near Gladstone in Central Queensland, virtually nothing was known about Indigenous occupation of the Boyne Valley. The Awoonga Dam Cultural Heritage Project Stage 2 is investigating a number of sites in collaboration with members of the Gooreng Gooreng, Gurang and Bailai Native Title claimants, in order to address questions raised by the Traditional Owners, including dating, trade links, and unique aspects of life in the Boyne Valley. Sites recorded so far include artefact types such as backed blades, eloueras, axes and tula-like retouched flakes.
***The Best Overall Poster Prize (Cultural Heritage) Winner, Australian Archaeological Association Annual Conference 2001***
Citation for this poster:
Yow Yeh, R., T. Coleman, N. Johnson, A. Johnson, T. Blackman and G. Blackman (Awoonga Alliance) 2001 Indigenous Cultural Heritage in the Boyne Valley, Central Queensland. Poster presented at the AAA Annual Conference, 6-8 December, Hervey Bay.
You must be a member to download the attachment (
Login
/
Sign up
)
<< Click here to go back to conference poster gallery page