Valuable and Vulnerable: A Research and Awareness Strategy for the Future of Rock Art
23rd November 2014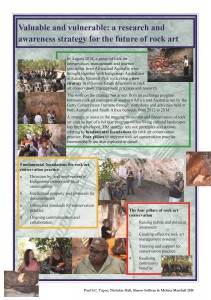 Undeniably one of the world's greatest treasures, rock art sites contain some of the most important expressions of the human mind. These are special, often spectacular places that reflect past experience, identity, history, spirituality and relationships to land. Rock art consists of paintings, drawings, stencils, prints, engravings (petroglyphs), bas-relief and beeswax figures. It is found in caves and rockshelters, on rock platforms and boulders. One of the most significant aspects of rock art is that it is fixed in place – an enduring feature of significant cultural landscapes. However, many sites are increasingly under threat from natural forces and human interference. Industrial and urban development has long impacted rock art sites and continues at a quickening pace. Graffiti and vandalism are a growing problem and now climate change is taking a toll. Even well-intended tourism is damaging some sites. Throughout Australia there are tens of thousands of known sites and many unrecorded sites are located each year. How do we protect and manage these places so that future generations may also enjoy and learn from them? How do we address the concerns of Indigenous Australians? In August 2014, a group of rock art conservation, management and tourism specialists were brought together with Indigenous Australians by the Getty Conservation Institute in Kakadu National Park to share knowledge and experience relating to these issues. A strategy to assist in the ongoing protection and preservation of rock art sites as part of a holistic programme within living cultural landscapes has been developed. This poster illustrates the resulting strategy and identifies key principles to guide conservation efforts globally in the future.
Citation for this poster:
Tacon, P., S. Sullivan, N. Hull and M. Marshall 2014 Valuable and Vulnerable: A Research and Awareness Strategy for the Future of Rock Art. Poster Presented at the AAA/ASHA Annual Conference, 1-3 December, Cairns.
The download file is 689 KB.
You must be a member to download the attachment (
Login
/
Sign up
)
<< Click here to go back to conference poster gallery page