An Application of Sclerochronology and Scleroisotope Analysis to Understanding Kaiadilt Occupation in the South Wellesley Archipelago, Gulf of Carpentaria
04th December 2013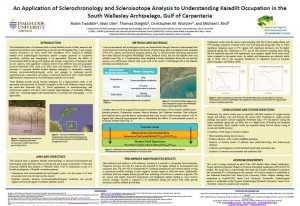 This research aims to generate detailed understandings of seasonal environmental and hydrological cycles, and their effects on the growth and isotopic composition of shellfish endemic to Bentinck Island, Gulf of Carpentaria, as part of a broader investigation of island occupation patterns. Shellfish have long been recognised as sensitive environmental recorders documenting the ambient environment in which they live within the chemical and physical structures of their skeletal tissues. When collected from archaeological assemblages such data allow for high-resolution determinations of seasonal occupation. However, the effects of environmental shifts on the growth regimes and isotopic composition of molluscan shell are not uniform, with significant variations derived from different species and geographical locations. It is therefore necessary to construct detailed modern baselines in order to 1) understand the effects of local environmental and hydrological cycles on targeted species; 2) give context to data acquired from archaeological material; and, 3) provide comparative baselines from which archaeological specimens can be analysed. Snapshots of local environmental and hydrological cycles are generated from data collected using water sampling and environmental monitoring instruments deployed over the course of an annual cycle. It is expected that the wet season (December–March) will be characterised by more negative isotopic values owing to greatly increased temperatures, decreased salinity, and influxes of freshwater from heavy precipitation and continental runoff. The dry season (April–November) is expected to exhibit the opposite with more positive isotopic values, lower temperatures, and higher salinity. By aligning and comparing this data to isotopic signals and growth patterning of live collected shellfish a high-resolution understanding of the effects localised seasonal cycles have on geochemical and physical aspects of molluscan shell will be acquired.
The citation for this poster is:
Twaddle, R., S. Ulm, M. Bird and C. Wurster 2013 An Application of Sclerochronology and Scleroisotope Analysis to Understanding Kaiadilt Occupation in the South Wellesley Archipelago, Gulf of Carpentaria. Poster presented at the AAA Annual Conference, 2-4 December, Coffs Harbour.
The download file is 604 KB.
You must be a member to download the attachment (
Login
/
Sign up
)
<< Click here to go back to conference poster gallery page