The Long-Necked Spearthrowers of Northeast Kakadu
23rd November 2014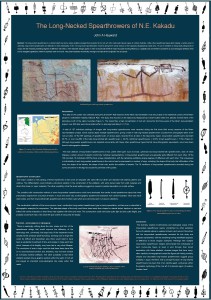 The long-necked spearthrower is a class of artefact which has some unique qualities amongst those depicted in the rock art of the northeast Kakadu region of northern Australia. Unlike other spearthrower types which display a certain sense of uniformity, long-necked spearthrowers are distinctive in their individuality. Of the 110 long-necked spearthrowers recorded during three survey seasons of the Djawumbu Madjawarrnja massif area, 78 can be classified as being totally idiosyncratic in design with the remaining exhibiting degrees of difference with others. Their elaborate designs appear to have no functional benefit for improved spearthrowing efficiency and are therefore considered as socio-ideological artefacts which convey intangible significance within the symbolic realm of rock art. This poster illustrates the diversity of designs recorded for this enigmatic rock art symbol.
Citation for this poster:
Hayward, J. 2014 The Long-Necked Spearthrowers of Northeast Kakadu. Poster Presented at the AAA/ASHA Annual Conference, 1-3 December, Cairns.
The download file is 234 KB.
You must be a member to download the attachment (
Login
/
Sign up
)
<< Click here to go back to conference poster gallery page