The Architecture of Contact: Unearthing a Cultural Landmark of Early Melbourne
23rd November 2014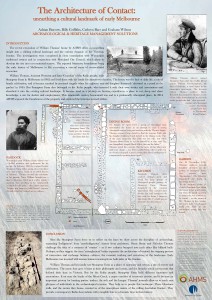 The bluestone footprint of Strangway Farm in the inner Melbourne suburb of Coburg is embedded with layers of meaning. William Thomas, Assistant Protector and later 'Guardian' of Aborigines, built the house in 1842 and lived there with his family for almost two decades. It was the hub of daily life, a site of family celebration, and it became marked by personal tragedy when his 18-year-old daughter Susannah Thomas 'drowned in a pond in the garden' in 1845. But beyond this unique personal perspective of Thomas lies a deeper story. Strangway Farm was an important cultural landmark in early Melbourne. It was quickly laid claim to by the Kulin people, invested with intense human meaning, and absorbed into the existing cultural landscape. It became used as a pit-stop on hunting expeditions, a place to eat, sleep and share knowledge, a site for shelter and employment. The men and women who passed through the property sought information on the movements of other tribes, the best places to sell skins, and where they could repair their guns. The recent excavation of William Thomas' house by AHMS offers a compelling insight into a shifting cultural landscape and the curious dynamic of the Victorian frontier. The exposed foundations bring this early history to life, conveying a visceral sense of cross-cultural encounter.
Citation for this poster:
Griffiths, B., C. Barr and A. Burrow 2014 The Architecture of Contact: Unearthing a Cultural Landmark of Early Melbourne. Poster Presented at AAA/ASHA Annual Conference, 1-3 December, Cairns.
The download file is 808 KB.
You must be a member to download the attachment (
Login
/
Sign up
)
<< Click here to go back to conference poster gallery page