Technological Adaptations during Pleistocene Migrations across Wallacea
25th November 2014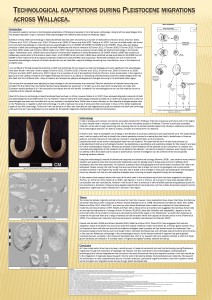 This poster presents my PhD research which centres on the adaptations to island life that people in the Wallacean archipelago needed to make during Pleistocene migrations through the area. My primary focus is on the analysis of shell tool technology, little studied for the research area and time, and particularly on full midden assemblages. I will be looking to contextualise Southeast Asia's regional perspective within the wider global narrative.
Citation for this poster:
Piotto, E. 2014 Technological Adaptations during Pleistocene Migrations across Wallacea. Poster Presented at the AAA/ASHA Annual Conference, 1-3 December, Cairns.
The download file is 772 KB.
You must be a member to download the attachment (
Login
/
Sign up
)
<< Click here to go back to conference poster gallery page