Stains, Stones and Broken Bones
23rd November 2014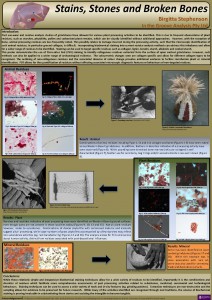 Biochemical staining approaches in residue analysis are becoming increasingly recognised for highlighting and identifying damaged residues that are often unrecognised by conventional microscope residue studies. In addition to damaged residues, intact residues such as plant fibres, phyoliths, starches, minerals, barbules and the like remain unaffected and are clearly observed. The addition of biochemical staining permits definitive assessments of similar plant and animal residues. As such, these staining approaches allow for more inclusive assessments of past function and contribute to more informed understandings of past behaviour. While these approaches can be used to investigate a variety of archaeological material, this poster demonstrates the utility of uncomplicated biochemical staining methods to investigate the function of grindstones from Australian contexts. The wide array of residues and their preservation is fascinating and supports suggestions of multiple and contrasting uses. Biochemical staining represents an inexpensive, simple, value-adding, nondestructive additional residue approach that is being applied successfully in Australia and overseas. If you thought Masterchef was cool then you need to view the colourful world of staining and see the residues associated with the kitchens and preparation areas of the past.
Citation for this poster:
Stephenson, B. 2014 Stains, Stones and Broken Bones. Poster Presented at the AAA/ASHA Annual Conference, 1-3 December, Cairns.
The download file is 712 KB.
You must be a member to download the attachment (
Login
/
Sign up
)
<< Click here to go back to conference poster gallery page