Stage 2 Geophysical and Anthropological Investigations at the Mapoon Mission Cemetery, Queensland
23rd November 2014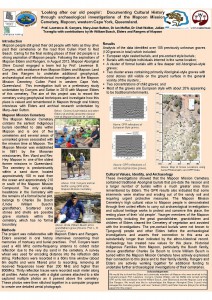 The Mapoon Mission Cemetery at Cullen Point is historically believed to be established by the Moravian missionaries in 1891 as part of Mapoon Mission. Mapoon is located in western Cape York, Queensland, approximately 100km north of Weipa. European-style headstones and crosses adorn a small number of the known graves with local Aboriginal Elders of Mapoon advising that the small piles of coral and shell scattered throughout the cemetery were also likely grave markers. Preliminary geophysical investigations of the Mapoon Mission Cemetery in December 2010 (Sutton and Conyers et al. 2013) lead to the identification of a much greater area of unmarked graves identified than remembered in living memory in the cemetery, with potential mission time burials and pre-contact interments. This poster presents the results of a second stage of more detailed geophysical and anthropological investigations of the Mapoon Mission Cemetery led by Conyers, Sutton and team in collaboration with Mr William Busch, Chairperson, Mapoon Interim Land and Sea Advisory Committee and Elder, Mapoon, Mapoon Elders, Mapoon Aboriginal Shire Council and Mapoon Land and Sea Rangers. These results include the  identification of 105 previously unidentified burials and the significance of the Mapoon Mission Cemetery as one of the few intact burial grounds in Cape York with Indigenous burials dating to pre-contact to the twentieth century. This poster also presents the aspirations of Mapoon Elders for the construction of a memorial at the Mapoon Mission Cemetery incorporating its cultural and historical mission time values. The Mapoon Aboriginal Shire Council managed the Cemetery project and GPR investigations utilising funding from the Northern Sub-Regional Trust, Western Cape Communities Trust.
Citation for this poster:
Sutton, M.-J., L. Conyers, C. P. Walker, I. Moffat, J. Travaglia and W. Busch 2014  Stage 2 Geophysical and Anthropological Investigations at the Mapoon Mission Cemetery, Queensland. Poster Presented at the AAA/ASHA Annual Conference, 1-3 December, Cairns.
The download file is 144 KB.
You must be a member to download the attachment (
Login
/
Sign up
)
<< Click here to go back to conference poster gallery page