Simulating Mobility, Place Use, and the Distribution of Stone Artefacts at Rutherford's Creek, Western New South Wales
23rd November 2014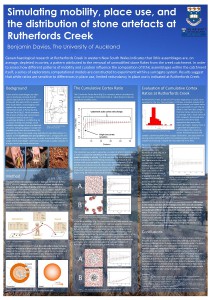 Archaeologists studying surface assemblages often rely on scatters of lithic artefacts to inform on past human activity. The cortex ratio method is one approach which uses geometric models of raw material to assess the amount of cortical stone present in an assemblage against what might be expected from the assemblage. This figure has been used as a proxy for mobility, expressed through the net transport of lithic material to and from a location. However, the scales of mobility and human activity inferred from these assemblages usually extend well beyond the boundaries of assemblage study areas, meaning that assemblages represent a sample of a larger, more continuous landscape. Understanding what these assemblages mean in terms of human mobility requires some assessment of how these samples fit within a wider distribution. This study uses computer simulation to evaluate interpretations of mobility and place use from distributions of cortical stone in surface assemblages at Rutherford's Creek in western New South Wales. First, the cortex ratio concept is investigated using an exploratory agent-based model coupled with an experimental dataset. Model outcomes are found to be consistent with expectations from the differential distribution of cortex, and the influence of local core reduction intensity on assemblage variation is demonstrated. Second, a measure called the average cumulative cortex ratio is proposed for evaluating the dispersal of cortex over a continuous surface. This measure is based on multidistance spatial clustering statistics, and is shown to be sensitive to patterns in distance ranges of artefact dispersal. Finally, the differential distribution of cortex within the Rutherford's Creek stream catchment is assessed by simulating different scenarios of place use and computing the average cumulative cortex ratio on simulated data.
Citation for this poster:
Davies, B. 2014 Simulating Mobility, Place Use, and the Distribution of Stone Artefacts at Rutherford's Creek, Western New South Wales. Poster Presented at AAA/ASHA Annual Conference, 1-3 December, Cairns.
The download file is 1 MB.
You must be a member to download the attachment (
Login
/
Sign up
)
<< Click here to go back to conference poster gallery page