Radiographic Imaging in Sembiran
23rd November 2014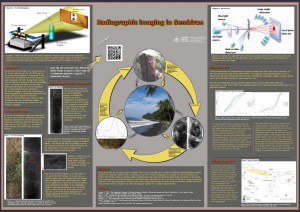 This poster shows how modern radiographic imaging techniques can highlight alluvial deposition/coastal aggradation in a site whose stratigraphy is non-distinct allowing for detailed geoarchaeological landscape reconstruction. The Holocene sites in Sembiran, Bali have alluvial and river estuary areas underlying active volcanic mountains on the coastline of Indonesia. This complex geological system creates pedologies and depositional elements that meld into one another forming a stratigraphy that appears to be a single deposit at times. This creates contextual and chronological issues for archaeologists when artefacts and burials are discovered within such landscapes. Radiographic methods can go a long way to helping unpack the stratigraphy of a site and define geomorphological aspects and processes of interest such as the changing shore line. By utilizing X-radiography and Computed Tomography we can break down unseen geomorphological aspects within a complex site stratigraphy to tease out the processes enacting upon an archaeological site. Coastal changes, alluviation and potential tephra layers can become apparent and provide valuable archaeological information about chronology and habitation. These are non destructive techniques and allow further analysis and alternate research goals by other archaeologists. Unfortunately radiography is not largely used within archaeology, however the technology can provide fast, effective and non-destructive analysis of samples and stratigraphy in complex sites such as Sembiran.
Citation for this poster:
Liro, P. A. Calo and T. Denham 2014 Radiographic Imaging in Sembiran. Poster Presented at the AAA/ASHA Annual Conference, 1-3 December, Cairns.
The download file is 400 KB.
Philip Liro, Ambra Calo, Tim Denham
Editorial
You must be a member to download the attachment (
Login
/
Sign up
)
<< Click here to go back to conference poster gallery page