PXRF Sourcing of Obsidian Artefacts from Apalo, Arawe Islands, Papua New Guinea
23rd November 2014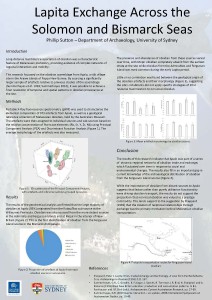 This study makes use of the significant methodological and practical advantages of Portable X-ray Fluorescence spectrometry (pXRF) to comprehensively determine the geological provenance of the obsidian artefact assemblage from Apalo (FOJ), a coastal stilt village site located in the Arawe Islands, West New Britain, Papua New Guinea. The assemblage has previously been partly characterised using the PI XE-PIGME technique (Summerhayes 2010). By increasing the sample size analysed, this study has been able to significantly improve the chronological resolution of obsidian sourcing patterns in the Arawes, as well as correlate changes in provenance with diachronic variability in other site data, including subtle trends in the morphological attributes of the assemblage. This has also allowed the exploration of links between the character of long-distance lithic exchange networks in Melanesia over time and major cultural and environmental changes, such as volcanic activity, the Pleistocene/Holocene transition and the emergence of the Lapita Cultural Complex.
Citation for this poster:
Sutton, P. 2014 PXRF Sourcing of Obsidian Artefacts from Apalo, Arawe Islands, Papua New Guinea. Poster Presented at the AAA/ASHA Annual Conference, 1-3 December, Cairns.
The download file is 422 KB.
You must be a member to download the attachment (
Login
/
Sign up
)
<< Click here to go back to conference poster gallery page