Pollen Analysis of a Midden Archaeological Site: Thundiy, Bentinck Island, Gulf of Carpentaria, Australia
23rd November 2014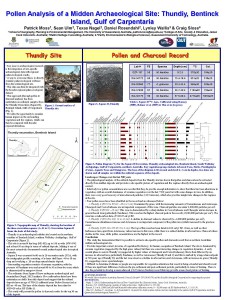 A key issue in archaeological research is the integration of site-specific archaeological data with broader regional palaeoecological datasets. Potential problems in scaling and local environmental variability can be overcome by examining palaeoecological evidence (i.e. pollen, charcoal and phytoliths) directly from archaeological deposits and then linking results to the broader regional record. This approach has been undertaken at the extensive Thundiy midden site, with human occupation dating to 800 cal BP, on the north coast of Bentinck Island, South Wellesley Archipelago, Gulf of Carpentaria. The main result of this research is that palynological analysis of midden deposits does provide a good record of environmental change and provides the opportunity to directly examine potential human impacts from an archaeological site, which in turn can provide insight into the scale of human occupation on the local vegetation and fire regimes.
Citation for this poster:
Moss, P., S. Ulm, D. Rosendahl, L. Wallis and C. Sloss  2014 Pollen Analysis of a Midden Archaeological Site: Thundiy, Bentinck Island, Gulf of Carpentaria, Australia. Poster Presented at AAA/ASHA Annual Conference, 1-3 December, Cairns.
The download file is 540 KB.
You must be a member to download the attachment (
Login
/
Sign up
)
<< Click here to go back to conference poster gallery page