Modelling Sea Level Oscillation and Landscape Transformation for the Site of Madjedbebe: An ArcGIS Approach
23rd November 2014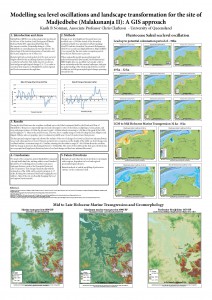 ArcGIS was utilised to investigate sea-level oscillation and landscape transformation impacts through the Pleistocene and Holocene on the environment surrounding Madjedbebe (MJB), throughout the site's occupation period. MJB is an archaeological site in Kakadu National Park, Northern Territory, positioned at the base of the Arnhem Land Escarpment. MJB's importance, as one of Australia's oldest sites, potentially dating to ~50ka, places the region of study at the centre of the debate on the chronology of the initial colonisation of Australia, and the timing of the human migration out of Africa. Local and global temporal sea-level height data and regionally specific geomorphological field data were modelled onto Australian Geoscience bathymetric (sea floor) and continental digital elevation maps (DEMs), via ArcGIS software and original raster calculator scripts. This provided temporal sea-level heights throughout the site's occupation period. The raster calculator scripts and regionally specific field data were used to adjust the height of the region's DEM to approximate the ancient landscape height around the site, and more accurately model the processes that occurred upon it. This was performed for MJB's entire occupation period, from ~50ka to the late Holocene, and demonstrated that during the late Pleistocene the coastline oscillated across the continent to the north and west of the site. This process exposed and submerged a series of shorelines, archipelagos, brackish basins, plains, and river and gorge systems, with the site fluctuating between being deeply landlocked at the height of the Last Glacial Maximum, and located near a coastline in the mid-Holocene.
Citation for this poster:
Norman, K. 2014 Modelling Sea Level Oscillation and Landscape Transformation for the Site of Madjedbebe: An ArcGIS Approach. Poster Presented at the AAA/ASHA Annual Conference, 1-3 December, Cairns.
The download file is 393 KB.
You must be a member to download the attachment (
Login
/
Sign up
)
<< Click here to go back to conference poster gallery page