Non-Cultural Factors Affecting the Historical Archaeological Record
04th December 2013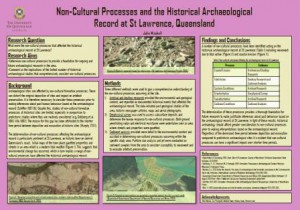 The archaeological record is subject to numerous non-cultural effects which can alter the deposition of artefacts and sites. This includes, for example, the effects of storm events, coastal processes and bioturbation. In order to interpret past human behaviour it is necessary to recognise and consider the kinds of events which may have impacted the archaeological record. Studies of these formation processes at historical sites are limited, especially in comparison to their prehistoric counterparts. When formation processes are considered in historical archaeology more thought is frequently given to cultural formation processes rather than non-cultural. This poster considers the non-cultural factors affecting the historical archaeological record at a Queensland town, St Lawrence, through a combination of historical archival information and geological data. This provides an opportunity to consider the impact environmental processes have on the coastal historical record in Queensland and allow a better understanding of the impacts non-cultural factors are having on historical archaeological sites in general.
The citation for this poster is:
Maskell, J. 2013 Non-Cultural Factors Affecting the Historical Archaeological Record. Poster presented at the AAA Annual Conference, 2-4 December, Coffs Harbour.
The download file is 380 KB.
You must be a member to download the attachment (
Login
/
Sign up
)
<< Click here to go back to conference poster gallery page