MacDonald River Hatchets: Tracking Sources in the Hawkesbury-Hunter Regions
23rd November 2014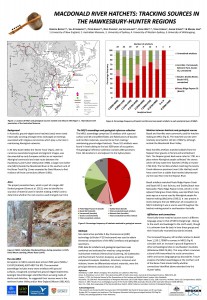 In Australia, ground-edged stone hatchets (stone axes) were noted historically as being amongst the items exchanged between Aboriginal communities. Hatchets often traveled long distances from their raw material sources to their find spots suggesting the existence of long-distance exchange systems. The project presented here explores whether igneous artefacts from Macdonald River MR /1 rockshelter, which have been identified with hatchet-making and/or modification, reflect part of an exchange system within and beyond the Hawkesbury and Hunter regions of eastern New South Wales, and whether there were changes over time in the sources of rocks used. Early European settlers described the 'Boree Track', with its numerous associated engraved and pigment images, as an important Aboriginal ceremonial and exchange route between the Hawkesbury and Hunter Valleys. MR /1, excavated by David Moore in the 1970s, is a large rockshelter site near the southern end of the Boree Track with occupation dating back to c.6500 years. Archaeological evidence for the manufacture and modification of ground-edged hatchets is found in levels dating to the last c.3500 years. As part of David Moore's 1981 study, geologist David Branagan suggested the sources of rocks from which ground-edged hatchets were made were in the northern fringes of the Hunter Valley and the New England region. We have used pXRF technology to seek matches between the MR /1 artefacts to potential geological sources. Our results indicate that several different sources of rock were used, but that a large proportion of the artefacts match basalts from Peats Ridge/Popran Creek in the adjacent Mangrove Creek Valley. This basalt was present throughout the MR /1 sequence.
Citation for this poster:
Bryant, R., V. Attenbrow, P. Grave, L. Sutherland, R. Pogson, H. Watt, T. Corkill, and K. Stokes 2014 MacDonald River Hatchets: Tracking Sources in the Hawkesbury-Hunter Region. Poster Presented at the AAA/ASHA Annual Conference, 1-3 December, Cairns.
The download file is 1001 KB.
You must be a member to download the attachment (
Login
/
Sign up
)
<< Click here to go back to conference poster gallery page