Low Level Aerial Reconnaissance in the Willandra Lakes World Heritage Area
25th November 2014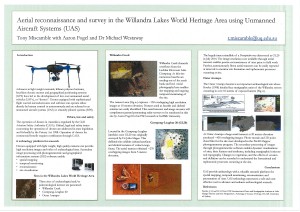 Most aerial imagery widely available to archaeologists is not at a resolution suitable for site mapping and assessment. Further, attempting high-resolution imagery from manned aircraft can be cost prohibitive with significant health and safety risks. Recent advances in Unmanned Aerial Systems (UAS ) have made high-resolution aerial image technology available at much lower costs and with significantly less risk than traditional data collection methods. We have surveyed several sites in the Willandra Lakes World Heritage Area to test the efficacy of this survey method for (1) spatial mapping, (2) temporal monitoring and (3) site visualisation. We will review legal and ethical issues related to image collection, present field results and assess various methods of data processing and image display.
Citation for this poster:
Miscamble, T., A. Fogel and M. Westaway 2014 Low Level Aerial Reconnaissance in the Willandra Lakes World Heritage Area. Poster Presented at the AAA/ASHA Annual Conference, 1-3 December, Cairns.
The download file is 250 KB.
You must be a member to download the attachment (
Login
/
Sign up
)
<< Click here to go back to conference poster gallery page