Landscape of Colonialism and Conflict
23rd November 2014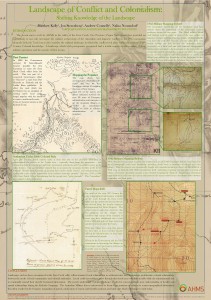 The World War II battle along the Kokoda Track has achieved iconic status as a crucible in the forging of modern Australian identity – on a similar level to that of Gallipoli. From August to November 1942 the Australian Imperial Force (AIF) battled the forces of the Imperial Japanese Army along this narrow 90km foot pad while both, in turn, also fought the demanding jungle landscape. For two short periods, numbering only in days, this conflict passed across the area around Eora Creek, Oro Province. This land includes the homes and hunting grounds of the people of Alola. The short and bloody conflict, significant as it was in the lives of the locals, was also situated within a longer period of Colonial incorporation and management. This process in turn located within the longer span of local habitation of the Eora valley. The recent work undertaken by AHMS to archaeologically survey and record this landscape of recent conflict has also been able to draw upon colonial accounts and oral history to highlight the compelling relationships between material culture, people's understanding of the significance of events and their related timescales within this colonial and military context.
Citation for this poster:
Kelly, M. 2014 Landscape of Colonialism and Conflict. Poster Presented at the AAA/ASHA Annual Conference, 1-3 December, Cairns.
The download file is
You must be a member to download the attachment (
Login
/
Sign up
)
<< Click here to go back to conference poster gallery page