Investigations of the Old Owen Springs Homestead Cellar, Northern Territory
25th November 2014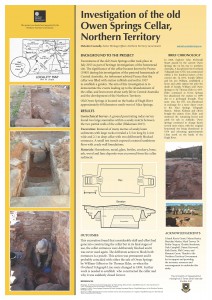 Old cellars can be the subject for investigation in some of the harshest areas in Australia as these are rare examples of early pastoralism and unique storage places away from the heat and dust of Central Australia. Malcolm Connolly, a Senior Heritage Officer based in Alice Springs reports on the excavation of Old Owen Springs cellar, which is believed to be constructed between 1873 and 1885 as part of the provision of horses for the Field Artillery batteries of the Commonwealth Military Forces and the Indian remount trade, both prior to and after 1900. This poster describes the cellar design and discusses its use as part of the colonial advancement during the early pastoral period of Central Australia.
Citation for this poster:
Connolly, M. 2014 Investigations of the Old Owen Springs Homestead Cellar, Northern Territory. Poster Presented at the AAA/ASHA Annual Conference, 1-3 December, Cairns.
The download file is 1 MB.
You must be a member to download the attachment (
Login
/
Sign up
)
<< Click here to go back to conference poster gallery page