Investigating the History of Bandicoot Bay through Glass Artefacts
23rd November 2014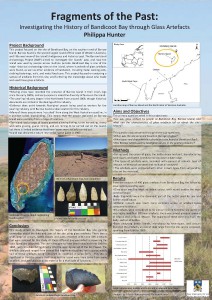 This research aims to discover the history and archaeology of an Indigenous and settler contact site at Bandicoot Bay, Barrow Island, through the analysis of glass artefacts. The use of bottle glass by Aboriginal people as a material is of interest to archaeologists as it potentially provides evidence of the continuation of stone knapping technologies with new introduced materials. Bandicoot Bay is thought to be a settlement site for pearlers around the nineteenth century, but this is not well-documented, nor has there been much research into the island's archaeology. It is known that Aboriginal men, women, and children were forced into the pearling industry in the northwest of Western Australia. Barrow Island is depicted in historical literature as being a good location for the pearling industry, but little is known of the people that stayed on the island. Glass artefacts have been found in abundance at the Bandicoot Bay site, and they will be analysed to see if they are of Aboriginal origin and the date range of the artefacts. The site is relatively undisturbed, despite the island being a mining lease, meaning that the majority of worked glass on the site has been modified by the people that inhabited the island. An analysis of the artefacts themselves will contribute to the growing knowledge of glass artefact manufacture and characteristics, and add to the history of Barrow Island.
Citation for this poster:
Hunter, P. 2014 Investigating the History of Bandicoot Bay through Glass Artefacts. Poster Presented at the AAA/ASHA Annual Conference. 1-3 December, Cairns.
You must be a member to download the attachment (
Login
/
Sign up
)
<< Click here to go back to conference poster gallery page