Impact of Cyclone Yasi on the Wreck of the SS Yongala Documented by Comparative Multibeam Bathymetry Analysis
23rd November 2014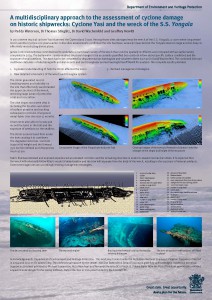 In February 2011 Severe Tropical Cyclone Yasi hit the Queensland coast, with a devastating impact on communities and the environment. The cyclone also had a major impact on many archaeological sites, including the historic shipwreck SS Yongala. A grave to the estimated 122 people on board when it was lost, the 110m-long Yongala has since become an internationally-renowned dive site, as well as a rare archaeological snapshot of life in the early twentieth century. The force of the cyclone did extensive physical damage to the wreck, which required a multidisciplinary approach to effectively assess the impacts and make recommendations for future management. This process incorporated bathymetric multibeam, dive inspections, underwater photography and comparisons with archival data. Through this process new insights into the Yongala were also obtained, with the subsequent potential for improved visitor interpretation.
Citation for this poster:
Waterson, P., T. Stieglitz, D. Wachenfeld and G. Hewitt 2014 Impact of Cyclone Yasi on the Wreck of the SS Yongala Documented by Comparative Multibeam Bathymetry Analysis. Poster Presented at the AAA/ASHA Annual Conference, 1-3 December, Cairns.
The download file is 681 KB.
You must be a member to download the attachment (
Login
/
Sign up
)
<< Click here to go back to conference poster gallery page