Warrawandu Walking Trail: Using Sustainable Heritage in Nyiyaparli Country
04th December 2013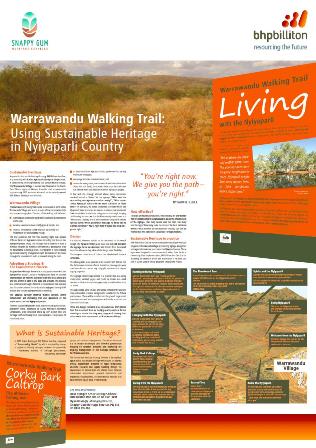 As part of its Sustainable Heritage Strategy, BHP Billiton Iron Ore (BHPBIO) in partnership with Karlka Nyiyaparli Aboriginal Corporation is constructing a heritage trail at Warrawandu Village near Newman in the Pilbara, WA. Warrawandu village supplies accommodation and recreation services to approximately 1800 personnel who work at the new Jimblebar Iron Ore mine. The purpose of the heritage trail is to increase the awareness of the general workforce about the local traditional owners—the Nyiyaparli people. The trail is located to the north of the Warrawandu Village and across a series of low to moderate hills, a tributary of Shovelanna Creek and an open mulga plain. The heritage trail is required to have a minimal footprint to minimise environmental disturbance. Snappy Gum Heritage Services were engaged to work with the Nyiyaparli to design a series of seven signs for the trail that focussed on how the Nyiyaparli view the local landscape and live within it. To better capture Nyiyaparli values and encourage participation, consultation was held onsite with Nyiyaparli elders, BHPBIO heritage staff and Snappy Gum representatives. The purpose of the consultation was to determine if the Nyiyaparli had a preference for any key themes or messages; encourage accurate communication; and assess the topographic, environmental and cultural variables along the trail itself. Initial design concepts were based on graphic design principles to ensure maximum visual impact and clear messaging. These designs were submitted to the local Nyiyaparli community group for review and approval. In accordance with BHPBIO's commitment to Indigenous contracting, a local Nyiyaparli business has been engaged to install the signs and construct the trail. This poster discuss the process and the outcome of this initiative designed to increase the understanding of employees and contractors at Warrawandu Village.
The citation for this poster is:
Hovingh, R. and R. Stanger 2013 Warrawandu Walking Trail: Using Sustainable Heritage in Nyiyaparli Country. Poster presented at the AAA Annual Conference, 2-4 December, Coffs Harbour.
The download file is 970 KB.
You must be a member to download the attachment (
Login
/
Sign up
)
<< Click here to go back to conference poster gallery page