Demonstrating Niche Construction Through Zooarchaeology in Southwestern Australia
23rd November 2014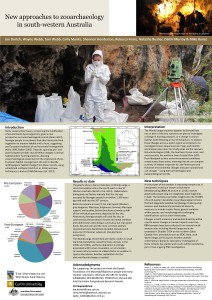 Despite considerable research work in the 1970s and 1990s, zooarchaeological sites in southwestern Australia are under-utilised as sources of information about past Aboriginal land management. Niche Construction Theory (NCT) suggests that anthropogenic change in animal habitat can be identified from zooarchaeological records. Excavations in 2013 at Wonitji Janga, a late Holocene limestone rockshelter site, and a nearby unnamed sink-hole, near Yallingup, southwestern Australia, reveal changes in species representation from 500 BP to the early-to-mid-twentieth century. The most marked changes are among species that require the most intensive effort to manage or capture. This evidence suggests that as their ability to manage some animal species using traditional methods became restricted by British settlement, Wardandi Noongar people exploited alternative resources requiring less intensive foraging and management techniques. It also suggests NCT will be a useful paradigm for assessing pre-European Noongar land management elsewhere in the region.
Citation for this poster:
Dortch, J., W. Webb, T. Webb, R. Foote, S. Henderson, C. Monks and T. Busher 2014 Demonstrating Niche Construction Through Zooarchaeology in Southwestern Australia. Poster Presented at the AAA/ASHA Annual Conference, 1-3 December, Cairns.
The download file is 535 KB.
You must be a member to download the attachment (
Login
/
Sign up
)
<< Click here to go back to conference poster gallery page