Cultural Heritage Management at Brockman 4, Pilbara, Western Australia
23rd November 2014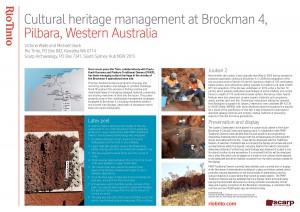 Over recent years Rio Tinto, collaboratively with Puutu Kunti Kurrama and Pinikura Traditional Owners, has been managing cultural heritage in the vicinity of the Brockman 4 operational mine site. This has involved numerous programmes of survey, site recording, excavation and salvage. A constant challenge faced throughout this process is finding creative and meaningful ways of managing salvaged material, preserving and sharing memories of sites into the future. This poster presents some of the collaborative management strategies employed at Brockman 4, including interpretive artefact and scarred tree displays, latex peels of excavation trench walls and aerial videography.
Citation for this poster:
Wade, V. and M. Slack 2014 Cultural Heritage Management at Brockman 4, Pilbara, Western Australia. Poster Presented at the AAA/ASHA Annual Conference, 1-3 December, Cairns.
The download file is 689 KB.
You must be a member to download the attachment (
Login
/
Sign up
)
<< Click here to go back to conference poster gallery page