Classification of the Rock Art of Red Lily Lagoon in Western Arnhem Land
23rd November 2014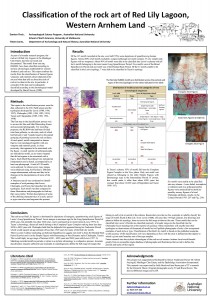 The rock art of a site at Red Lily Lagoon in western Arnhem Land has been surveyed and classified according to stylistic chronologies established for the region. The classification is based on depictions of human figures, weaponry and material culture. The rock art is dominated by paintings of energetic, spearthrowing stick figures of  Darrell Lewis's Long Spearthrower Period which would make these motifs less than 2000, but probably less than 1000, years old. Some 5% of motifs belong to the earlier Broad Spearthrower and 'Hooked Stick' Periods. In Paul Taçon's chronology, almost all motifs belong to the Complete Figure Complex making them less than 3000 to 4000 years old. Some motifs were unable to be classified into either of the main typologies. This reflects both the inherent variability of Arnhem Land rock art and the incomplete coverage of the prevailing typologies.
Citation for this poster:
Finch, D. and T. Jones 2014 Classification of the Rock Art of Red Lily Lagoon in Western Arnhem Land. Poster Presented at the AAA/ASHA Annual Conference, 1-3 December, Cairns.
The download file is 694 KB.
You must be a member to download the attachment (
Login
/
Sign up
)
<< Click here to go back to conference poster gallery page