Archaeology in the Funny Pages
23rd November 2014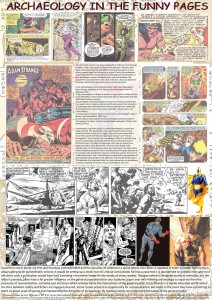 Popular culture representations of archaeology proliferate through various genres and media types. Comic books have a consistent history of archaeological representations from the 1930s onwards. Examination of the ways in which archaeology has been represented throughout the history of comics illustrates changing societal attitudes towards, and ideas about, the discipline. Recent use of comic book publications as a storytelling format capable of communicating archaeologically-specific messages,  demonstrates ways of engaging with the general public through this popular communication medium. This poster provides a visual analysis of the history of representations of archaeology in comic book publications.
Citation for this poster:
Jordan, D. 2014 Archaeology in the Funny Pages. Poster Presented at the AAA/ASHA Annual Conference, 1-3 December, Cairns.
The download file is 606 KB.
You must be a member to download the attachment (
Login
/
Sign up
)
<< Click here to go back to conference poster gallery page